A new validated course goes online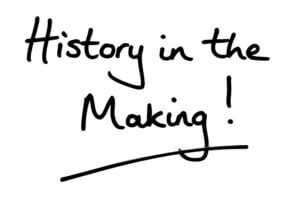 How do you teach a practical skill and stretch those boundaries of podiatric practice? That is the task facing organisers Ian Reilly (IR) and Belinda Longhurst (BL) with a new course – we might just call skin surgery, and now was now well underway.
I was invited to attend the practical day of the weekend Part C section of the skin surgery course. Enabled to observe, comment, and interview the delegates / candidates for this first exposure to skin surgery was exciting as my interest – well, I have been wanting to see a change to current practices that podiatrists would allow simple skin procedures to be undertaken since my time as past Dean of Faculty of Surgery (2012-14). Both frontiers' people come from varied backgrounds to combine their academic-clinical skills in dermatology and podiatric surgery. Of course, the course is more than skin as it delves into many baseline techniques that would have been performed by the podiatric surgeon. Termed a 'module', a standard tool for modern educational delivery, the opportunity to expand podiatric skills is open to HCPC registered podiatrists with POM-A/S, SP or IP annotation [Royal College of Pharmacy] and a minimum of two years post-qualification experience. Therefore, there is an expectation that delegates are comfortable working at 'postgraduate level' and are up to date with current HCPC standards of proficiency
Candidates and Location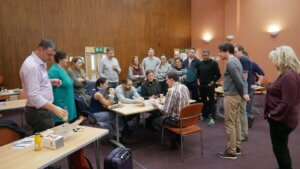 Nineteen candidates, all with foundation skill in ankle blocks attended a two-day course at the Cripps post-graduate medical centre at Northampton General Hospital. As the temperature dropped outside, adding a little icing on cars parked nearby on a Sunday morning, inside, the keen audience were toasty and bubbled with enthusiasm. Such enthusiasm had not been seen since those halcyon days when local anaesthetic and phenolisation was taught to eager chiropodists in the seventies by American podiatrists (DPMs) as part of the  Croydon Post-graduate group.  It was not that podiatry had not celebrated other seminal events such as degrees and POM access, but moving into an area that had previously been unchartered territory and more frequented by dermatologists and GPs at a superficial level. Today the faculty was all British rather than American. Podiatry has always appreciated US input, but today Podiatry in the UK has sufficient expertise to take the profession forward. Belinda and Ian, together with other podiatry speakers, mainly from the Faculty of Surgery, worked with the Royal College of Podiatry to change the skill set of a new generation of podiatrists producing a detailed and exacting core syllabus.
"The module involves 100 hours of study, delivered in 6 parts.."
Director of Education for the Royal College of Podiatry, Dr Paul Chadwick, felt that the resistance to such changes was not evident. On the contrary, the support from the past Dean of the Faculty of Surgery was encouraging. "Ensuring it was academically valid enough through our academic and clinical governance group, quality assurance committee. So we've tried to make sure that it's rigorous and can stand up to external scrutiny and rigour of external assessment."
I asked Paul if he thought taking on board some of the discussions within the SAKS Report that the First Contact Practitioners [link] would be blend in with this concept? 
"I think we should be selling that as a profession to be that role for us. They shouldn't be going to see the GP in the first instance. Suppose they've got a lower limb condition. In that case, they should be coming to see the podiatrist screen out, treat, manage what can be managed effectively, and then refer on which needs further investigation. So I think podiatry is primed for this particular role."
Belinda pointed out that several podiatric surgeons had offered to support the candidates embarked on this series of courses overseen by the Royal College Academic Standards. However, as with any new system, the rigour and fences associated with obstacles required to meet quality and compliance have challenged the organisers.
A course with rigour
Armed with a copy of the Module handbook, I reviewed the course structure and standards required a few weeks before attending. Reflective components offered sufficient guidance within the document to demonstrate the expectations to those embarking on a course that is not for a faint-hearted bank balance. For the business savvy podiatrist, the cost would be recouped most likely within a single year. The expenses for such advanced distance education cover the length of the study, hiring of facilities and materials, preparation time, and expertise from the lecturers and tutors in the course. Validation backed up by Royal College indemnification has also been built into the cost and value.
This course would require academic stamina, as rightly intended for the candidate students. This extension of training brought more in line with the American DPM.  The skills embodied within the course fit in with the advanced practitioners who should look to the future career expansion within the NHS structure. The other great opportunity created is the parallel relationship with independent prescribing (IP) [link]. In theory, this should be a prerequisite to the course, but that would only dislocate the development at this point.
What does the course consist of?
The learning comprises online self-directed reading, in-house lectures, workshops, and laboratory sessions. The module delivery adopts a modified problem-based approach, including directed questions, clinical case scenarios, practical skill-based tasks, and mentorship support. Delegates will be clinically active and working with a caseload of patients that includes those with skin and nail pathology.
How is the course delivered
The module is delivered in 6 parts ('a' to 'f') and covers 15 subject areas. The theory element of the course takes a blended learning approach – a combination of directed reading, face to face interactive lectures, skill/technique demonstration and video-based learning – which focuses on delegates actively engaging in their learning. Keynote lectures will provide the foundation for the learner to complete the directed learning tasks (pre and post-lecture reading). The lectures will incorporate group work. Practical workshops will allow the learner to apply the theoretical knowledge to surgical practice in skin pad and cadaver work. A `flipped leaning classroom` style shifts the focus from passive learning to active participation, building knowledge to create more profound understanding. Consolidation of clinical theory is aimed to blend in better with clinical practice.
Part 'A': Pre-reading

1-31 October 2021

20 hours of self-directed reading

Part 'B':

6, 7, 8 November, 2021

20 hours (3 day) lectures: (on-line)

16 November 2021

(on-line) Pass/fail MCQ:

Part 'C'

27, 28 November 2021

15 hours (2 days) practical workshop

Part 'D':

7 January 2022

15 hours: 7.5 hours cadaver plus self-directed practice. (Cadaver Lab)

Part 'E': 9 January 2022

OSCE

Part 'F': Jan – Jun 2022

30 hours case studies/further reading:

College sign off if successful in all 6 parts

(within 6 months of the

OSCE)
Table 1. The Module. Skin surgery for the advanced podiatrist
Problem-solving and clinical reasoning skills are not new but will develop optimum learner interaction via group work and 'Q & A' time during lectures. Additional support is provided through Module Leaders. The perception gained while attending this single day on the extended course was engagement and motivation.
Content and practical objectives
Educationalists recognise the importance of professionals to adapt and add skills to knowledge. Thinking outside the box; adaptability to innovate and translate complex problems based on case studies, experience and intellectual reading. Secondly, podiatrists have an innate skill honed by training to deliver psycho-motor skills at a highly dexterous level. Transposition of skin surgical skills is well within reach. During my visit, the use of demonstration and observational skills was delivered by I.R and covered the following areas (official list supplied):
Shave and punch biopsies

Simple skin incisions and basic skin flaps

Incisional nail procedures & hypergranulation tissue resection

Removal of superficial foreign bodies 
Suturing was conducted at this point on dry foam pads before transferring skills to cadavers (preserved human tissue). The Faculty of Surgery has utilised cadaver workshops for over 30 years, and this medium provides a safe environment to migrate to living human tissue. The principal, I.R, offered many examples that he had recorded on video to demonstrate the complexity of case studies. Candidates could understand their limitations as their skills inevitably developed. Much was debated about histology and tissue identification; it would be necessary for this to be implemented to validate some less readily identifiable lesions. The importance of using histology services and embracing cost within a private setting has still to be established but doubtless would be ironed out. Dermoscopy played an essential part in the diagnosis, and B.L focused on developing better skills to recognise differentiate lesions with malignant potential.
Looking forward to the future
After observing this Part C practical workshop during the weekend, my intention is to follow the candidates into 2022 to map their progress and review the highs and lows. To my knowledge this is possibly the first time an independent review has been reported for this style of course. I asked Dr Paul Chadwick how he thought this service would sit alongside current the NHS provision, pointing out as well that the NHS cannot manage any increase of people with foot problems.
"Access to GPs is reaching critical levels. There's a lot of work within Health Education England and health safety executive (HSE) to look at different delivery models of care, which is where the first point of contact has come from really because they recognise that GPs can't provide the kind of service that they'd like to because there isn't enough of them. So that's one of the main drivers for us. The development of primary care networks as well should help solidify the role of podiatry there . So they're the two big drivers. One is a lack of GPs, the other is the primary care networks being developed. They're the sort of things that have been driven to NHS practice."
One of the delegates was from the University of Northampton – Rodrigo Diaz Martinez, and offered an interesting parallel in the benefits of attending the course to upskill. Being from Spain, the only other European country to match the UK and in many ways top the current British undergraduate degree course, Rodrigo pointed out, "As I was trained in Spain, it's slightly different than in the UK, and some of the procedures that we learn in this course are something that you learn as an undergraduate, and I was frustrated that I couldn't do those procedures with my patients here privately and also at the  university where I teach."
Rodrigo did not just want to extend his scope of practice and expand on techniques for himself but felt that they should be potentially taught as an undergraduate as he thought this was the right place to grow the profession. The dual value to his private practice and the university would expose students to new techniques and things that they don't necessarily see when they do their training. So perhaps I would be allowed a personal, respectful chuckle. We had tried to do this same thing when we set up the first integrated podiatric surgery unit at the same university (Nene College, School of Podiatry) in 1987. Sometimes changes occur slowly, but we should never give up trying to change the image of our profession. As we have seen a fall in school leavers attracted to podiatry, perhaps the time has finally come to recognise that surgery in one form or another should be part of core podiatry undergraduate education. There is no doubt it would attract a very different type of student despite the attraction of such innovations through sports podiatry, often cited as a current driver (Whitham et al 2021).
---
I would like to thank Mr Ian Reilly, Ms Belinda Longhurst and the postgraduate class of 2022 for allowing me to interview and observe them at work. I appreciate Dr Paul Chadwick's comments concerning this course. Doubtless, this will be a successful module and something the Royal College of Podiatry can be proud to support. The learning curve will be steep, but this group of podiatrists should know they are expanding the frontier that will do much to support our community, ease GP workload, enhance UK healthcare, speed up timely delivery of front line foot health care and practice as well as attract recruits from British schools. There is still hope that we might close the gap between the DPM – USA Pod and BSc UK Pod.
---
Thanks for reading 'Stretching the boundaries of podiatric practice'
by David R Tollafield.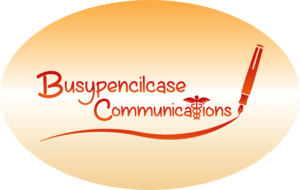 Published by Busypencilcase Communications Est. 2015
David is the principal editor for Consultingfootpain publishing information on foot health since 2013. All articles are independent and contain factual based information. The views held by the author are his entirely and do not necessarily accord with any organisation mentioned. You can receive regular newsfeeds by going to the landing page of this site and clicking on free information to join.
---
For readers wishing to know more about podiatry, David has written a number of books covering the profession. Selling Foot Health as Podiatry (2020), Podiatrist on A Mission (2021), Foot Health Myths, Facts & Fables (2020) – all available from Amazon as paper back or e-books. Read more here
---