Steroid Injections in Podiatry
We love tales of educational development and it is a pleasure to welcome Ian Reilly to write for ConsultingFootPain (CFP) this month in this vein.  Of course, the use of steroid injections is not new and has been recorded elsewhere under independent prescribing.  What makes this more important is that Ian has contributed toward upskilling podiatrists over a number of years, empowering them to provide better care for patients.  His article sets out his own journey, but what I hope people will focus on is how each and every one of us can contribute to our profession selflessly.  Read, learn and apply.  The story of our acquisition of pharmaceutical skills and the pharmacological application to podiatry still continues.  CFP believes in collecting stories from past and present clinicians in the field of podiatry to enlarge a picture of professional development that straddles half a century of painstaking development.  (Editor)
NB: Hyperlinks within this article have been added to take readers to other podiatric sources which were not included in the original transcript.
---
In the Beginning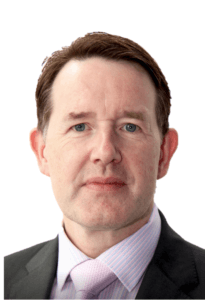 My first introduction to steroid injection therapy was all the way back in 1997 on a visit to see Dr Tim Kilmartin.  I had qualified as a podiatric surgeon the year before and was in the process of setting up a unit in Cumbria, but to keep my eye in I organised a few visits to other teams while I was away from surgical practice.  One such visit was to Doncaster, where Tim had set up the service now run by his former trainee, Tony Wilkinson.  The day consisted of a busy outpatient clinic in the morning and a busy theatre list in the afternoon.  Tim did several corticosteroid injections (CSIs) in clinic, the first time I had seen a colleague perform these.  Tim was working under what we would refer to now as a Patient Specific Direction (PSD).
Taking a step back 50+ years, the Medicines Act of 1968 brought most of the previous legislation on medicines together and introduced several other legal provisions for the control of medicines.  The Medicines Act, together with the Misuse of Drugs Act (1971) and the Poisons Act (1972), regulated all retail and wholesale dealings in medicines and poisons.  The three statutory lists created were:
Prescription only medicine – POM (including most injectables)
Pharmacy – P
General sales list – GSL
CSIs, as POMs, could only be prescribed.   A PSD is a written instruction, signed by a doctor, dentist, (or, latterly, a non-medical prescriber) for medicines to be supplied and/or administered to a named patient after the prescriber has assessed the patient on an individual basis.  A PSD requires a prescriber – usually the GP in our scenarios – to do a prescription for the clinician on behalf of a patient.  The patient would take that prescription and cash this in at a local pharmacist and arrive some weeks later to see us with a small vial of steroid.  I will always remember Tim telling me that he would be "unable to practise without access to steroids".  This came as something of a revelation as hitherto this was not a skill set I had observed before.  In some ways it's a bit like doing archery blindfolded in that you "don't know what you're missing".  Well, after that I knew.  Fast forward 20 plus years and I now say the same.  Tim's excellent CPD article is listed in further reading and should be your first choice to delve deeper in the area if you are unfamiliar with the territory.  One of two aspects of the legislation have already changed since that paper but it remains a very useful summary.
Those That Can't, Teach
Cumbria was a tough nut to crack from a surgical perspective so in 2000 I took a lecturer position at the Northampton School of Podiatry, motivated to take the position vacated by my good friend Ben Yates (who coincidently had taken that role over from Tim) as the school had a small podiatric surgery service.  I had the joy of working with a fellow podiatric surgeon, Alan Percival, who was the first to show me how to undertake a steroid injection.  We also worked under PSD to gain access to the steroids.  I recall Alan showing me two injections, and after that I taught myself.  The best available reference at that time was work done by leading physiotherapist Stephanie Saunders who has done much to promote the work in injection therapy by non-medics.  Her book Injection Techniques in Musculoskeletal Medicine: A Practical Manual for Clinicians in Primary and Secondary Care is now in its 5th edition (I might differ with some of her suggestions for foot and ankle CSIs!).  Remote prescribing was not without its problems and when we had a patient that we considered required a CSI we would write to the GP and ask them to prescribe it for us.  The original prescriber remained responsible for the patient but as we were usually unknown to the GP, it was common for the GP to refuse politely – and sometimes less politely – to do the prescription for us.
Patient Group Directives
In 2002 I jumped from education back into the NHS where my local podiatry department also had a small podiatric surgery service, recently vacated by Dieter Fellner who had moved on and set up a new service in Lincolnshire.  Alan and I combined both small teams into one bigger NHS team and I have continued to work in this team ever since (Alan carried on till his retirement in 2005).  Being back in the NHS allowed us to access the next progression into steroid access – Patient Group Directions (PGDs).
In 1998, a report on the Supply and Administration of Medicines under Group Protocols was published.  These were (often informal) working practices set up to allow experienced nurses to provide quick access to medications in a consultant-led clinics.  The 1998 report recommended that the legal position should be clarified, and in August 2000 the relevant medicines legislation was amended.  Before that, there were many examples of nurses with decades of experience undertaking patient/drug management and getting the junior doctor to sign off on them, perhaps sometime later.  PGDs allowed our team to access a range of drugs without prescriptions.  My NHS Trust took them very seriously and each PGD took six months to write, develop and achieve sign off and all had to be updated on a two-year cycle.  We developed three PGDs for CSIs: methylprednisolone, triamcinolone, and betamethasone.  Over time we did away with the last of these and favoured the insoluble products, though this was very much level 5 experience on our part.  PGDs allowed us to have a stock of drugs on site so that we could inject patients with much greater convenience (than via PSD).
The Exemption Proves the Rule
PGDs can be considered an exemption.  There are a range of exemptions (to the Medicines Act) which allow certain groups of health professionals to sell, supply and administer particular medicines direct to patients.  The exemptions are distinct from prescribing which requires the involvement of a pharmacist in the sale or supply of the medicine.
In 2005 the MHRA, consulted with the profession to extend our access to drugs.  This allowed (with some further hoops to jump through) non-prescribed, non-PGD access to one steroid: methypredisolone.  This was invaluable in private practice where PGD sign-off was complicated.  In the same year, my local NHS Trust was looking to develop an orthopaedic triage service.  It was well known that many orthopaedic referrals did not result in surgery and that suitable skilled AHPs could divert (and treat) much of that work.  The triage service has 2 MSK pods in its ranks and there was a need to skill them up in CSIs.  By this point three Society of Chiropodists and Podiatrists (SCP) accredited CSI courses had been run been ever keen to get a bargain, our department head asked if I would run one (and income generate at the same time).  I, therefore, spent the next three months developing my first CSI course.
Education Masquerading as Self-Promotion
Bolstered by the truism that you want to learn about something, teach it, my own below-average knowledge in all thing's steroid has been increased by looking over and re-looking at the evidence base of injection therapy.  This year will be the 15th year the course has run, on 30 occasions, in four countries.  I continue to get this re-accredited every three years (at £450 per cycle) with the (now) Royal College of Podiatry (RCoP).  This is not an advert for my course, but I think it is important to show any that reader of this article the value I place on education in this field.  The course is based on two days of theory, a post-course examination then a minimum of 10 mentored injections post-course.  Mentoring is key for accurate needle placement.  I was shown two injections, then taught myself how to do others.  I might argue that I had a passing familiarity with anatomy and knowledge of pathology as a foot surgeon, but anatomy is key for podiatrists who wish to practice.  My skill development journey may have been acceptable at the time but it certainly is not now.
In 2008-10 I was teaching on many and varied courses with (in my opinion) the greatest local anaesthetic-skilled podiatrist in the UK, Stuart Metcalf.  Having worked on Merriman's Assessment of the Foot and Ankle, fellow colleague Ben Yates put us in touch with a publisher, and Stuart and I committed our combined thoughts to print.  Foot and Ankle Injection Techniques took a year to write, and a much more painful further year to edit, tweak and polish the final product.  The book continues to sell well and perhaps has been of some little help to colleagues in the profession.
Making the subject more academic
In 2013 I finally finished the MSc I started way back in in 2004, with a dissertation subjection of CSIs for plantar fasciitis.  Ever the glutton for self-flagellation, I was hoodwinked into starting a doctorate in 2018 and since January 2019 I have been on the Staffordshire University professional doctorate.  APL'ing my MSc to enter at year three of a six-year programme, I have been looking at CSI of the 1st metatarso-phalangeal joint.  This project should see four publications in total, the first of which is already in print (see further reading).  My work centres on needle placement and accuracy, having carried out cadaveric, X-ray guided injections using radio-opaque dye.  Concurrently, COVID lockdown provided the time to look at other aspects on injection therapy and eagle-eyed viewers will already have seen these trailed on social media (for example, high volume injection (hydro dissection) for tarsal tunnel syndrome).
A further piece of legislation we should all know about is The Human Medicines Regulations 2012 ("the Regulations") which repeal or revoke most existing United Kingdom legislation regulating the authorisation, sale and supply of medicinal products for human use.  Comprising of an Act and a number of statutory instruments, HMR 2012 consolidates legislation in one place and in rationalised form.  This is the place to find what drugs we have access to as podiatrists.
Further changes to legislation affecting podiatry
Supplementary Prescribing (SI) and Independent Prescribing (IP) have allowed for increased access to drugs by podiatrists.  SP training for nurses began in January 2003 with the first nurses qualified as supplementary prescribers in April 2003.  Supplementary prescribing training for pharmacists began in September 2003, from early 2005, Podiatrists, Physiotherapists and Radiographers were included as SPs.  SP is of little use to podiatrists for CSI as an initial prescription must be made by a prescriber but IP has allowed more expansion: legislation was amended on 20th August 2013, permitting podiatrists and physiotherapists the right to become independent prescribers.
Independent prescribing is defined as "prescribing by an appropriate practitioner (e.g. doctor, dentist, nurse or pharmacist) responsible and accountable for the assessment of patients with undiagnosed or diagnosed conditions and for decisions about the clinical management required, including prescribing of medicines".  I often see this referred to as non-medical prescribing.  Of note I rarely see doctors doing non-AHP treatments.  Sarcasm aside, a particular advantage of IP is the ability to mix steroids with LA.  Prior to this was not possible under a PGDs (I might do a whole article on the mixing of medications as the legislation has changed significantly over recent years).
We are annotated by the HCPC under four frameworks: supplementary and independent prescribing (SP/IP), POM-S (prescription-only medicines – for sale and supply) or POM-A (prescription-only medicines – administration), see Fig 1.  For the last of these, the podiatrists will have undertaken the 'local anaesthesia' certificate (LA) training.  The old LA certificate has been replaced by this but it seems many colleagues are not aware of either this change, or the range of drugs one can administer (see below).  This means those with POM-A can use methylprednisolone.  The Royal College of Podiatry recommends training in its use. Annotation toward entitlements is clearly marked on the state's approved register – the Health and Care Professions Council. Those elements listed in the figure show the level of validation with Podiatric surgery (PS) and independent prescribing (IP) at the highest level.
The current changes to The Human Medicines Regulations (2012) can be found at this link.  The administration shall only be in the course of their professional practice and where the medicine includes a combination of substances, those substances shall not have been combined by the chiropodist or podiatrist.
Final Thought
The HCPC state: "Your scope of practice is the area or areas of your profession in which you have the knowledge, skills and experience to practise lawfully, safely and effectively, in a way that meets our standards and does not pose any danger to the public or to yourself.  We recognise that a registrant's scope of practice will change over time and that the practice of experienced registrants often becomes more focused and specialised than that of newly registered colleagues".
CSIs can be considered one such extension.  Podiatrists have been struck off for incorrect access to/use of drugs so be aware that this is the body you will answer to if your practice strays off the correct path (and do check your own access on the HCPC register).
Further Reading
The aim of this piece was to provide a coffee table overview of access to steroids, flavoured by my own journey on that path.  I must admit to being an injection therapy nerd.  Readers are directed to the following to augment their knowledge in the area.  Many other are available.
Borthwick AM & Fitzpatrick M (2016).  Modernising the annotations: amendments that make sense, Podiatry Now.  19(11): 2
Flanagan, G., Burt, N., & Reilly, I.   (2021).  Intralesional fenestration and corticosteroid injection for symptomatic Ledderhose disease of the foot: Two case reports.  SAGE Open Medical Case Reports, 9, 1–6.  https://doi.org/10.1177/2050313X211011813.

Kilmartin, TE.  (2017).  Corticosteroid injection therapy in podiatry.  Podiatry Now.  20(2): S1-S11.

Reilly, I.  (2010).  Corticosteroid Injections.  In S.    Metcalfe & I.  N.  Reilly (Eds.), Foot and Ankle Injection Techniques (Issue 9, pp.  141–167).  Elsevier.  https://doi.org/10.1007/978-3-642-28753-4_100474.
Reilly, I.  (2021b).  Palpation-guided intra-articular injection of the first metatarsophalangeal joint: Injection technique and safe practice for novice practitioners.  SN Comprehensive Clinical Medicine.  https://doi.org/10.1007/s42399-020-00719-w.
Reilly, IN., Bromley, G., & Flanagan, G.  (2020).  A systematic review of injectable corticosteroid for osteoarthritis of the first metatarsophalangeal joint.  The Foot an Ankle Online Journal, 13(3).  https://doi.org/10.3827/faoj.2020.1303.0012.

SoCaP/IoCP (2013).  Prescribing and Medicines Management for Podiatrists.
---
Further reading covering podiatry development and the part played by podiatry in foot health is available from Amazon. You can sign-up and receive more information including a free book on Myths,Facts and Fables
---
Thanks for reading Tales of Education – focusing on corticosteroid injections by Ian Reilly for ConsultingFootPain
Published by Busypencilcase Reflective Communications Est. 2015
23 August 2021