Medicine What's the point?
Part 8 History of Podiatry in the making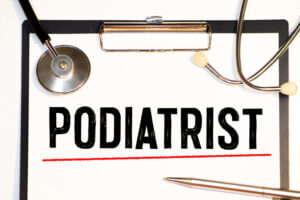 In this article the title Medicine What's the Point  may seem obtuse. Podiatrists all take medicine as part of their degree but when in the wider field sometimes this is not applied. Given that podiatry is a medical based career Steve Kriss is making a serious point. Doubtless his criticism is an open reflection and does not apply to everyone. When I learned to use a stethoscope on my health science (BSc) degree course I was taught to listen to lungs and heart sounds. Thereafter a new learning dimension opened for me. However, colleagues shunned the idea of assuming what they thought was an activity reserved for medical doctors. I even had a surgical trainee ask what's the point? That was in the early 1990's and so it is with pleasure a colleague now writes in a similar vein.
Podiatry in the USA adopted a medical model back in the 1960's and now leads on the world stage of podiatry through confidence to interact with medical colleagues on the same level. We already know that to fail to think outside the box is self defeating. In the case of podiatry, any lack of pushing boundaries can only have a retrograde impact. Steve Kriss's words come with over 36 years of experience as a successful consultant in the field of podiatry. Steve decided to take up Chinese acupuncture and through this initiative took a fresh look at western medicine which opened his eyes to new opportunities. I hope you find your eyes opened to this article because it will challenge some but hopefully not most [Ed.]
---
Accepting the truth by self refection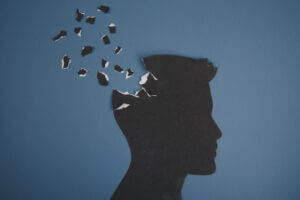 The joke goes that orthopaedic surgeons have forgotten all the medicine they used to know – but podiatrists never had any medical knowledge to begin with. In my experience, this is unfortunately true. For several years, students from a local school of podiatry were rotated into my surgical unit within the NHS, and I'd often take the opportunity to ask the students about their future plans, and gauge their knowledge in general podiatry and medicine. Many of them didn't see any point in learning much general medicine.
'We're not doctors, and our skill set is mostly confined to one very particular area of the body.'
Most of these students had no intention of training towards podiatric surgery, so why bother? The pursuit of good medical knowledge has been a crucial building block for my practice. As I move into the twilight of my career, I've been taking on an increasing amount of medico-legal work – and time after time, I've seen cases involving podiatrists who simply do not have the skills, knowledge, or resources needed to manage the complex cases they were dealing with. Often, colleagues don't take an adequate medical history. There's no assessment of peripheral circulation or neurological status, and often, an incomplete global assessment of the patient's health and circumstances.
Think twice about how you see yourself
As a result, we miss things – and when we miss things, or are not alert to the potential problems that inevitably occur, patients litigate. Every medic has this initial clinical assessment protocol drummed into them from day one at medical school. They are able to assess the status of the patient fully and systematically with confidence. We lack this approach. Podiatrists broadcast an image of ourselves as independent clinicians, but treating wounds without fully considering the wider context of our patients' health we are in fact practicing as technicians. We are relegating ourselves to the status of 'allied clinicians,' rather than proactive, independently thinking practitioners. As a newly qualified graduate in 1982, I would lecture to GPs on podiatry and the skills we use in managing diabetic feet – but, frustratingly, I found that foot ulcer patients would regularly be rerouted from our care to that of district nurses. GPs considered our training and knowledge inadequate to manage complex cases. Instead, we were told to restrict our practice to 'good nail care.' Clearly huge advances have been made since then but if we want to be accepted as a mature profession, the idea that there is a 'limit' to what we need to know is simply wrong. As we move into the management of 'high risk' feet in patients with complex co-morbidities, we will have to broaden the range of our skills and expertise.
Seeking a progressive career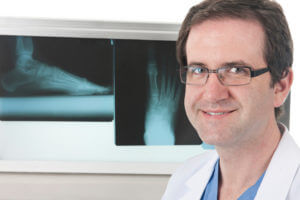 All podiatrists treating high risk feet should be Independent Prescribers (IP) and be trained in the ordering and interpretation of x-rays. And schools of podiatry should ensure that their students leave with the materials they need for lifelong learning. In my own career, I've been constantly made aware of the importance of medicine in podiatric practice, and the pursuit of good medical knowledge has been a crucial building block for my practice as a podiatric surgeon. 
'…I realised that if I wanted to be a clinician, rather than a technician, medicine was for me the way to achieve this…'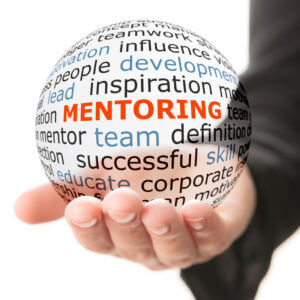 Following my graduation from the Northern College of Chiropody in 1982, I moved to London and started working in an excellent, forward-looking department in City and Hackney. Here I met, worked with and learned from some of the current leaders in our profession (Trevor Prior, Nat Padhiar, and Jim Woodburn, among others).
I recall that especially with Jim we would test each other`s medical knowledge by asking obscure medical questions and then searching at length for the answers in reference books as there was no internet! I took out numerous books on topics ranging from gynaecology to ENT pathology from the medical library at Barts, and would read these books like novels. Later on in my career I recognised that to gain the trust of my surgical patients I would need to understand the relevance of early menopause and bone quality, or understand that when some patients mentioned a "neuroma" it could be the acoustic variety rather than a Morton's neuroma. These conversations would make my day more interesting and leave my patients assured that they were in reliable hands. Most of all I realised that if I wanted to be a clinician, rather than a technician, medicine was for me the way to achieve this.
Scope of practice can halt progress
However, on starting my clinical work I was frustrated by the lack of scope our profession had. I decided to train in traditional Chinese medicine as an acupuncturist. The course I applied to was for doctors and people with medical or paramedical qualifications – and since I was a chiropodist, the assumption was that I knew no medicine (and they were right).  In order to pursue the course I was obliged to do a year of western medicine, in which I learned to palpate and auscultate and examine parts of the body I had never looked at before, increasing my thirst for medical knowledge. When I completed my studies in acupuncture and started to treat patients with conditions ranging from back pain to dysmenorrhoea and atypical facial pain, the relevance and importance of medicine became more evident. This also fired me up to pass on this enthusiasm to my colleagues, and has been a career-long passion.
As a jobbing Podiatric Surgeon, I have had the good fortune to practice to a level of intervention that I never dreamt I would achieve when I arrived in Hackney back in 1982, keen and naïve about the future. Progress has been slow, but we have come a long way since those early days.  I still reflect on my personal development and that of my profession when doing the WHO "huddle" prior to a theatre list, during which I discuss each case, asking for equipment and drugs as needed and chatting to the anaesthetist about any medical/surgical issues. A throwaway comment by the anaesthetist (overheard by the theatre team) about phaecromacytoma or DVT risk requires a response that suggests knowledge and decision making. Saying 'no idea' will work occasionally, but it's not a good response with an anaesthetist with whom you have never worked before. A good understanding of medicine doesn't only help podiatrists more directly understand the common medical conditions whose pathologies we regularly treat. It also encourages clarity of thought.
Personal thoughts
Clinical medicine brings a systematic logical approach to patient assessment, enhancing our ability to sift through these options and refining our interpretative skills. Other disciplines – such as anatomy – might fulfil some of the same functions, but the practice of medicine is unique in its constant demand for interpretation and evaluation. In my many years of teaching at an undergraduate and postgraduate level, I've found that these skills are lacking in our profession. When undertaking medico-legal cases, I'm sometimes asked to give an opinion on who is to blame for a missed osteomyelitis or a referral that doesn't occur. But the fault doesn't lie with any single practitioner. Schools of podiatry should instill in their students the idea that the road to learning goes on for a career and a lifetime.
Employing Trusts should provide the clerical and clinical infrastructure needed to help podiatry reach its potential as a discipline. Too often there are no GP letters, inadequate note taking, and complex and time-consuming referral pathways. Much of our position has to do with the limited resources available. How can we be expected to treat high-risk patients when in some Trusts we don't do swabs, have to ask the GP to order an x-ray, or can't prescribe antibiotics? But before we challenge Trusts for access to these tests we have to set our own house (and minds) in order. We have to embark on lifelong learning and discipline our thinking so that we can claim the respect we think we deserve.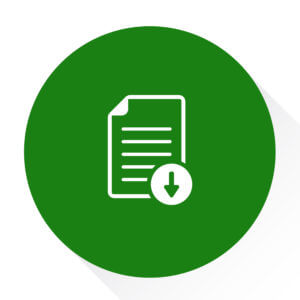 Download a printable version from the original 2019 paper. NB. This is best viewed as a printable version
Medicine: what's the point? S. Kriss. Reflective Podiatric Practice. 2019. 2(10):64- 66
---
Why not read other related articles on this site?
---

Thanks for reading 'Medicine What's the Point?' by Steve Kriss
Originally published by Busypencilcase Reflective Communications in 2019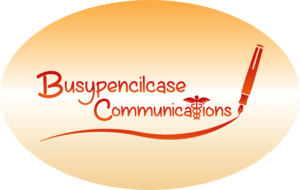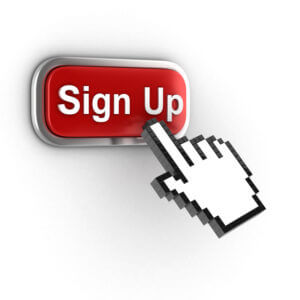 Released 15th April 2021