Feet and your first aid kit
Dressing and first aid kits
Feet and your first aid kit should be a must-have item in every home. But is your kit fit for purpose? In an ideal world, everyone should go on a St John's Ambulance or Red Cross course to learn about first aid (U.K). Red Cross

(www.redcross.org.uk). First aid i
s the process of providing stabilising treatment before medical intervention is formally required. This forms life-saving methods, such as cardio-pulmonary resuscitation (CRP) and safeguarding an injury from deteriorating. From a small cut that may only need localised care with a sticky plaster, to a burn, a puncture wound or a fractured ankle, it is good to have the basics. 
In this article, I am looking at first aid more for the foot than anything but it comes down to the principles behind first aid that are important. First aid is described, what to buy and then an introduction to second aid. A less common term. This is not a first aid course but my web pages do have self-help articles for different foot conditions.
What do you need at home?
So the question arises what do we need in a regular home that is reasonable? Probably the best advice is to go to a pharmacy and buy the best first aid kit on offer. The click link takes you to the St John's ambulance recommended kits where prices range from low cost to more expensive refill kits. 
Prices vary enormously. Some kits come in plastic carrying cases for easy access. These are more expensive so you might want to buy the contents alone or select a soft bag. Having an easy at hand kit is as important as having a fire extinguisher or flame mat. We keep ours in the kitchen. The household kit may not require all of the components of a professional or commercial kit, but the trauma dressing does provide peace of mind if there is a sudden gush of blood. When a wound first occurs it is useful to have to hand a thick wad of gauze. Even a clean kitchen towel can work in an emergency. If you have a pair of clean absorbent nappies these will soak up blood until the wound settles. Keep pressure on and elevate.
A good deal of first aid is common sense. First things first – always look to your safety before rushing in. Count to 10 and assess the environment. If someone is shouting or screaming it is better than if they are unconscious.
Putting your own kit together
scissors

sterile gloves x2 pairs

face mask

a standard wrap bandage

a triangular splint bandage for arms

a thick (trauma) pad like gauze for serious blood loss

small and larger gauze for wounds

a roll of tape (2.5cm wide)

various hypoallergenic plasters

pack of steripstrip

finger bandages, bandages for the eye 

(fingers and toes often have shaped plasters)

ring pad to protect a protruding foreign body like a nail

sterile alcohol swabs

elasticated bandage

thermometer (optional)
Other bits and pieces
Ointments, creams and liquids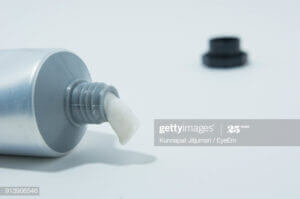 Almost all ointments and creams go out of date so you need to keep an eye out on these. Dressings last longer but the packet should not be unbroken. Antiseptic creams, sprays, and flushing sachets are well worth having. Options like a 5ml plastic sterile syringe can be bought. I would keep a few in the kit but throw them away after use. The most frustrating aspect of first aid kits or medicine boxes is the out of date concern.
Someone in the family could be allocated to take responsibility. Guess who did this in our family when I was a teenager?
Pain medication in your kit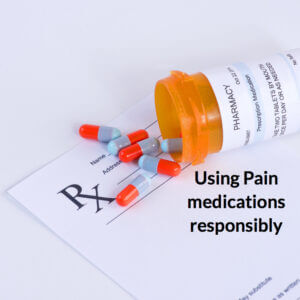 A box of 200mg ibuprofen (unbranded is cheaper), 500mg paracetamol or 300mg aspirin are basic pain relief medicines. Aspirin should not be mixed with ibuprofen or any medicine that causes blood to thin and hence not clot. Aspirin also as well as full-strength medicines should not be given to children under 10-12. The solution is to keep the instructions and read these if in doubt. There's more to this in my article painkillers for foot conditions.
Ice pack
You can buy ice packs or make up your own ice compress, but ice is an important part of first aid helping to reduce pain and swelling. If you are on the move then a pack activating a chemical reaction to create cold might be best. At home, a bag with a sealed lid filled with crushed ice cubes provides a clean method for application. The bags (see illustration above)  mould around the foot, and limb.
Second Aid
Second aid focus on prevention as part of primary management. This can be used after an injury has been repaired. i.e a blister requires first aid but then heals and requires protection. As part of self-help here are some tips.
Using an additional dressing can be used. For more than half a century podiatrists and the pharmaceutical business have used FELT (padding) to protect corns, bunion lumps and heel bumps and even prevented painful joints from moving. All podiatrists are trained to use felt and engineer designs to achieve a range of benefits for patients. Today, in order to preserve the skin from adhesive damage from long periods of attachment replaceable dressings, are favoured. 
STRAPPING & TAPING
Tapes provide a useful medium to limit movement and support painful ligaments, tendons and muscles so that recovery can take place with continuing light activity. Often applied around joints, tapes can fit easily in shoes. Conditions such as fasciitis and painful stiff toe joints can be assisted with strapping, while ankles do well from compressive fig 8 bandage after sprains. Bumps on top of the foot are a common concern for people causing much discomfort.
BLISTERS
Dressings applied to the back of the heel as in the picture are valuable and I personally find they are great for my own heel bump. These specialised dressings are useful when out walking if you find your heel is rubbing. Easy to apply, they hold well and do not come off when showering. They have a hydrocolloid design, now advertised for many dressings to help to heal. The spongy bulk of the dressing provides the means to offset pressure against the skin. The illustration used came from available product literature on the internet.
Blisters occur over bony projections as a result of skin rubbing. Pain and Prevention of Blisters are covered in this article. 
---
Thanks for reading this article "Feet and your first aid kit" as an introduction to self-help

Why not read  – Podiatry as a career choice?
Published by Busypencilcase Communications Est. 2015 for ConsultingFootPain