Making decisions is not easy and so this book is a must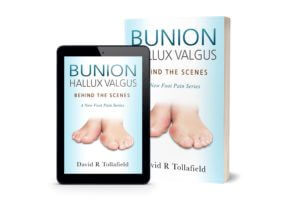 Hallux valgus (HV) and the bunion is traditionally treated by orthopaedic specialists. My book introduces the reader to the work of the specialist podiatrist providing you with a wider range of options . Hallux valgus is part of our broader label for musculoskeletal deformity (MSK deformity).
Dictionaries have previously recorded the definition of podiatrist as someone who treated bunions. It is true that in the UK, less than 5% of podiatrists undertake surgery. We hope to provide treatment to reduce your pain. Unfortunately you will find that full correction of the deformity does not work with conservative care. Full correction is straightening the deformity to look like a normally aligned toe.
However, treatment will alleviate pain and slow down your deformity. Unfortunately there are no cures to stop the deformity from progressing. One of our aims as podiatrists is to prevent the side effects of the deformity affecting your enjoyment. This means alleviating pressure over the joint. 
My book goes behind the scenes because I will provide you with material not published before. As a patient myself experiencing another foot condition (Morton's neuroma), and having had surgery, I am only too aware of the worries and the effects surgery has on the patient. This book comes with three patient diaries . You will be please to know that I left all of the 'behind of the scenes' material in. I hope this frank account arms you better when attending consultations. My belief is that you won't read this anywhere else and every author appears to want to tell a story of success. Sometimes the truth must be told.
---
To get your eBook
I have set the eBook at a low price so that any purchase won't hit your purse. You can download the eBook from Amazon, published by Busypencilcase Reflective Communications. The eBook connects to five YouTube films covering help with bunion pain and stiff toes.
Seeing my films for free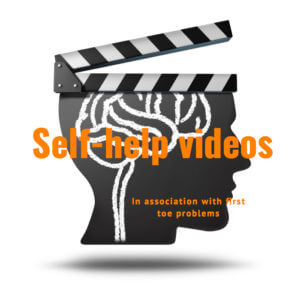 You can see these films without buying my book and connect directly to video self help. This can be accessed by clicking on this link which takes you to another article about self help videos. Scroll down to find the list of films when you get to this article.
The paperback can be purchased without going through Amazon and discounted for readers using this website. Click to go to the bookstore.
---
Thanks for Self-help and the Bunion book by David Tollafield.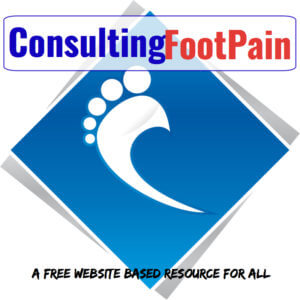 Published July 2020
Busypencilcase Reflective Communication Est. 2015