Morton's Neuroma
Morton's neuroma is a painful condition more information can be found on this information sheet. I know all about this condition as I have not only had Morton's neuroma for many years but, I have had surgery. I guess as a podiatric foot surgeon and a patient then I am doubly qualified to talk about the subject.
What is it?
A small nerve (MN) is trapped between the bones called metatarsals and sends electric shock and pain signals into the toes. It can affect one foot or both feet, or it can affect more than one set of toes.
How do we diagnose this condition?
Squeeze the front of your feet and if you can create the problem then there is a chance your pain will show up. Get to see someone next is a good idea. I am biased but go to a podiatrist because they can offer you the best course. Surgery must be avoided and this means trying everything under the sun first. Take a good year to try out different methods. Conservative (non-surgery) can work.
What makes it worse?
There is no doubt that it is shoes, long periods of standing, injury to the foot and activity. This list doesn't sound good! Shoes are the first place to look. In my case, it was cycling shoes that were too tight. Cycling, especially in winter became a problem as I needed those thicker socks. When it comes to who gets the problem most, sorry girls, it is your group by a factor of five times more frequently than men. I have treated both groups but far more women and many are younger than the textbook age of 40. The textbooks used to say fat and forty which of course is rubbish and today is just plain wrong.
---
You can download my fact sheet on surgery

here

or you can purchase my book which describes my personal surgical journey as well as self-help tips.
My Morton's neuroma book comes as an eBook which most people will find adequate and is very cheap. The paperback is great but overpriced on Amazon because it is in colour and that ups the price! You can get the paperback a little cheaper if you are in the UK by going to my bookstore. The cover shown below is the eBook.
---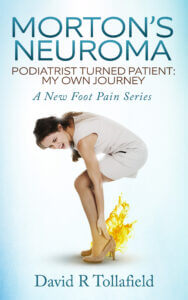 Foreword by Trevor Prior, Former Dean of Faculty and Consultant Podiatric Surgeon
"I doubt this level of information could be bettered and congratulate David for his attention to detail. I hope you enjoy the read."
Foot pain often fails to consider the human angle
How to recognise a neuroma?
What exactly is a neuroma?
What treatment can I expect?
Neurectomy: consent and risks
Knowing what to expect.
What can I expect on discharge?
Contrasting operations top and bottom
Final thoughts and loose ends.
Common questions to guide the patient, colour pictures, diagrams, tables, figures
"I think this is a novel and brilliant piece of work. I worked through some of your experiences with the team at Ilkeston… the consent chapter was exceptional."  Dr Tim Kilmartin (consultant & former Dean of Faculty of Surgery, College of Podiatry)
"…I think that your book should become a "MUST HAVE" for everyone interested in Morton's Neuroma – patients and clinicians alike."Dr Marius Vintila
"Very easy to understand … I would have found it helpful to have something like this as I was on google and wanted as much information as possible prior to surgery."Mrs Jenny Norton, Patient
"…there is nothing like experiencing the symptoms and results of intervention for oneself.This is why this book is so unique."Mr Trevor Prior (consultant)
"…this book is very accessible and easily understandable by the lay reader/patient (due to its clear, simple and concise language) without losing any of its medical scientific value."   Resident Medical Officer, Spire Hospital
"I liked the diagrams very much … diagrams and drawings are a highly useful way to convey complicated information."Mr Lyndon Jones (consultant)
Mr Tollafield operated on, and removed my neuroma, as well as correcting work done by a previous surgeon. He is an excellent surgeon, and I have the utmost respect for his breadth of knowledge, not to mention his willingness to keep me informed every step of the way. Good, informative book. Thank you (patient)
This e-book has everything you want to know about Neuroma of the foot and the pain associated with it. You will find inside the hard and soft facts about this condition and the various treatments available for it. Data is included of 5331 people having Neuroma surgery between 2010 and 2017.
The author is an experienced UK Consultant Podiatric Surgeon, and former Dean of Podiatric Surgery, College of Podiatry. David has had surgery himself, and so writes from a patient experience viewpoint. He demystifies the medical jargon associated with this type of foot pain.
I would highly recommend this read for anyone making decisions about their care and treatment of foot pain. If nothing else, you hopefully won't be tempted to take the dressing off or go back to work too early after this enlightening story. Suzanne Taylor, (Current) Dean of Podiatric Surgery, College of Podiatry.
An excellent informative book for people suffering from Morton's neuroma, those contemplating surgery and healthcare professionals who manage problematic foot health conditions. Easy to read and understand with helpful diagrams.
I have been a practicing foot surgeon for about 38 years. I found this book very much like the way I would try to inform patients about what their foot problem was, what treatment options were available, what stage along the course of the disease they were at, and what they may expect in the future. I am sorry this book was not available over all those years because this format has a distinct advantage over all the other forms of information we used to hand out because interested people may simply purchase it for themselves, read it in their own time and not confined by any perceived time limits of an office visit. Pamphlets are not as thorough as this format and may cost as much as this Kindle version. Not to mention the viewpoint of the surgeon-turned-patient. I will definitely be advising my patients to read this and keep it handy as their disease process moves along. Dr Paul Stepanczuk, D.P.M.
*Having known David for many years I know his passion for care and patient-focused treatment – this book gives a really nice outline of the experiences you see in patients day in day out and how this affects them. Understanding the role of the Podiatrist is vital but also how much it is a concordance in planning treatment rather than directing the 'intervention' – a good read if you have had this or not! Matt Fitzpatrick (Former Chair of Royal College of Podiatry)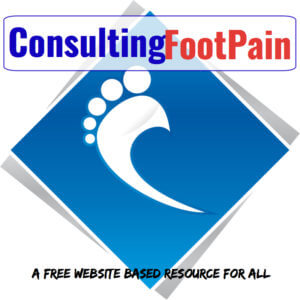 Published by Busypencilcase Reflective Communications Est. 2015
Published July 2020. Reviewed 29 March 2021