Does your practice have a good receptionist?
A colleague gave me some good advice once. That advice stayed with me for my whole career. Employ a good receptionist/secretary.
While I no longer practice, I have reached that age when I confess I need to seek a 'private' dentist and GP,  plus hospital consultants and, of course, for my cat, the veterinarian. As I worked for the NHS and the independent sector, I saw a variety of receptionists, of which the female stood out as being chosen by those businesses. My comments, however, will also apply to males, although I never had the benefit of exploring some of our newer accepted gender groups. My short article is not about gender or anything other than a person employed as the face of the practice, your business and your brand.
Podiatrist turned patient
In truth, whether you select an independent sector or NHS employment, the receptionist varies enormously. We communicate via telephone or face-to-face contact. E-mail is less of a problem as succinct does not necessarily mean a lack of value, just frustration where the detail is too generic. 
Definition
A receptionist is employed to receive guests and deal with their bookings. Or a person employed to receive clients.
As far as the podiatrist is concerned, you need someone who can manage the practice while you are involved with patients, so the chances are that any role played is not just for bookings. There is an implied meet and greet, which should be high on anyone's shortlist. Communication uses the face, body language (posture) and speech.  These roles offer an excellent opportunity for diversity in employment, where communication is the primary concern.
Sole trading practices, whether associated with a branch or single practice – often called a single chair practice (one room), rely on utilising all the benefits of good communication brought by the three communication features. To this, we must add a competency level that fits the role. Knowledge of the health market is a bonus—an ability to have numeracy and written skills associated with the keyboard and the computer. There is enormous flexibility involved with who one selects. Of course, if we add a secretary, we expand the role and the skill set. The remuneration should be higher because the duties and communications skills are expanded. For example, you do not want to deal with issues concerning missed appointments or sending out billing if a fee is on an account. Today it is more reasonable fees are taken before the appointment because so much mischief exists.
Personality
My first experience in a hospital with a secretary who acted as my 'phone receptionist was dire. She was efficient but had the personality of  … well, we don't want to go there. Still, Paul Harris is quoted as saying, 'Personality has power to uplift, power to depress, power to curse, and power to bless' – my first secretary failed the first part of the quote. Who was Paul Harris – he was a humanitarian and an American lawyer.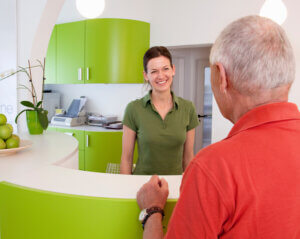 Why did I bother writing this article?
Apart from my first receptionist-secretary, the person who offered me advice happened to have the same person I had. We were both allocated the same person to share. I vowed that when I moved hospitals, I would make changes. I confess that from that experience, I enjoyed fantastic secretaries and worked with receptionists as my practice became busier.
It was curious that my first experience was with a well-established hospital group in the UK. I used the same group for my personal musculoskeletal concerns and found the reception frosty and unhelpful. Of course, let's blame this on Brexit or Covid, the usual get-out clause. I was spending a small fortune on my care and perhaps expected that little extra smile, illustrating a welcoming personality. On my third visit, I approached the hospital reception and felt that inner protective anxiety. First, there was a smile; secondly a little quip was friendly, measured and relevant. My own face was probably like the face of this article because I was expecting the worst. She smiled, and I smiled. She spoke, and I was happy to enter that light banter (incidentally, it was about the fact she lived in the same county as me). From then on, it was a good experience.
Now I know you might say, David, you know the system and should make allowances. NO. I expect the same attention, respect and sense of welcome as anyone. I certainly hope and wish during my time as a podiatrist, I achieved my own aim as a patient would expect. But there is a saying –  'We don't know where our first impressions come from or precisely what they mean, so we don't always appreciate their fragility.' Canadian author Malcolm Gladwell. 
First Impressions
This article is partly based on a dictionary by Mary Normandy White and will point many readers in different directions. Of course, we should all allow for variations in human behaviour and personality, but rudeness should never feature on either side of the reception counter.
---
Thanks for reading my article on 'The Receptionist' for ConsultingFootPain, published by Busypencilcase Communications Est. 2015