How to support your profession and receive your free book
The idea is simple. Go to Amazon Books using the link HERE and order as usual. The cost of the black and white paperback book is £10.99

Once you have confirmation, go to your account/orders at Amazon and copy the order when received. An example is shown below for an AZ road atlas book. 

The screen grab should show your name, order placed, and delivery date.

Send the image (screen grab) to busypencilcasecfp@gmail.com with your name and address, and you will be sent one free copy of the book purchased. 
If you buy a

colour paperback

(£15.00) you will receive two B&W paperback books or one colour paperback book.
If you buy a colour hardback – very impressive for showcasing (£26.00) you will receive three B&W paperback books or one colour paperback book. 

You will also receive TEN advertising flysheets which can be used to promote the book.
---
CONDITIONS
You must make one purchase only for your practice

All receipts should be registered as recommended, or the order will be delayed or rejected.

The closing date is 30th June 2023, OR  after the first 25 orders have been exhausted. 

Priority relates to first come – first served.
BULK ORDERS
Anyone can place a bulk order and distribute the book. If you miss the deal, book purchases are discounted when ordering three or more books (£8.99). For larger orders, please get in touch with David at busypencilcase@gmail.com 
Thank you for supporting your profession and allowing Busypencilcase Communications to work on your behalf to assist in making podiatry better known amongst schools and libraries.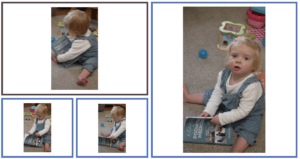 You know it's successful when she no longer wants her toys!
---