Launching A New Career Book
Looking back seems like a lot of water under the proverbial bridge. It started as an invitation from two schools to speak to their 8-10-year-olds and 11-15 years olds in April 2019. 'Inspiring the Future is a charity promoting careers to young people before they form opinions about what they should do instead of what might suit them best. As an old hack podiatrist, I joined a mass of other professions in a noisy primary school and a draft school gym for middle school students. I was hardly the young maverick I once was, but the project made me want to do more, especially now that I had no clinical commitments in retirement. I also had to commit to doing something of value to maintain my registration. Read more about the launch here.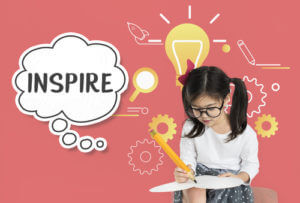 Encouraging careers when young opens new doors
---
How to support podiatry and your profession with a FREE book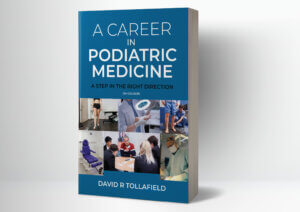 The paperback colour version is illustrated. Amazon 2023
---
The pandemic arrived, and I had just completed a book called Selling Foot Health as Podiatry and realised UK podiatry was not cutting it. The SAKS report arrived from the Royal College of Podiatry, and it was clear from the recommendations we had to fix some potholes. The fact is that few podiatrists write about their profession and those that do write with academic rigour, but sadly it carries limited attraction to the vast population. There are several facts; we are now a nation that prefers sound-bite correspondence (read social media), and we are not a profession that can sell ourselves with conviction. When the Journal of Foot and Ankle Research (JFAR) published a review of Z Generation (Whitham et al., 2021), I realised I had been on the right track.
To overcome the writing problem – who has the time to write about themselves when running busy clinics? – I contacted over seventy people between April 2020 – May 2022. Suddenly podiatrists were telling the stories that I had wanted them to write. All the universities I contacted helped, and students provided insight from first to fourth years, the latter in the case of Scotland. The recording material hit over 300,000 words, and I needed a book for school leavers and their careers teachers and advisors. 
Webinars and zooms were in, and my newly found transcriber converted each story into words and then had to be edited. Two manuscripts dropped out, the first was this career book. I decided to publish many of the stories on my website, and this was successful, with 'diabetes' and 'dance podiatry' striking the highest hits. Benjamin Jones contacted me from the University of Southampton and asked if he could help. He reviewed the book, and with colleagues Professors Alan Borthwick and Cathy Bowen, we managed to shape the book with expert oversight. Cathy assisted with the one area no one knew how to promote. We found fantastic contributors in Heidi Siddle, Helen Branthwaite, Hayley Edgington and Christopher Joyce, who could speak about podiatry and rheumatology simultaneously.

Dr Emma Cowley & Mr Benjamin Jones
The University of Southampton decided to engage with the book head on
Who Owns Career Promotion?
The Career dilemma around recruitment is a problem. Who owns it? The universities train the graduates who enter and become tomorrow's professionals. The Royal College of Podiatry (RCoP) and the Institute of Chiropodists (IoCP) are the formal bodies that benefit from membership. SMAE entering the field as FHP conversions could be interested in podiatry recruitment. The NHS and the funding bodies need to increase the numbers providing care, a fact well publicised. There is awareness amongst many. The HCPC register alone tells the tale given comparable numbers – consistently low compared to many other AHPs.
The thirst for making changes drops toward looking at the apprenticeship marketplace—fast-tracking and conversions from other professions into MSc and BSc courses to boost numbers. Universities are struggling to keep numbers up and encounter viability problems. There are no longer dedicated teacher conferences as once existed. Much relies on the connection through the main body, the RCoP.
The Whitham paper does not appear to have been listened to or read outside academic circles. It forms the blueprint for change for those leaving schools and demonstrates reliance on both internet sources and knowledge inside schools from teachers. It was not for any other reason I called this THE LANDSCAPE project. How to turn an unhealthy image into a vibrant and exciting landscape of opportunity.
Getting the message out there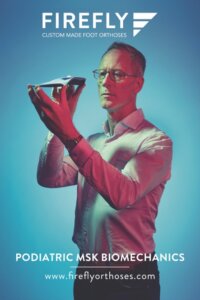 Martin McGeough at Firefly immediately stepped in to support the Landscape project mainly because he is a podiatrist and believed in the project. Many other companies did not see the potential, only the adverse effects. This allows a valuable reflection on what value companies that use podiatrists place on seeing an expanding profession. Martin provided funds to assist all universities with free book copies and interested parties who could make a difference. Free books were extended to all contributors, and the author intended to promote them to local schools in his catchment. In addition, Benjamin Jones, his colleagues and the University immediately saw the potential and set up a programme to provide local careers teachers with free copies. All this has come off the back of one university able to exploit the potential. And yet the following Universities have kindly provided student and lecturer input from Cardiff, Brighton, Edinburgh, Glasgow, Huddersfield, Northampton, Plymouth, Salford and Ulster. 
Podiatrists in the NHS and Independent Sector
single-sided leaflet written by Borthwick, Jones & Tollafield, 2023
It can be rationalised that if every practice could promote at least one copy of the book to their local schools, we could start to penetrate the market to offer a guide to consider podiatry as a career in one of the healthcare professions. We need to own that promotion; the practice is a great place to achieve publicity. Thanks to  Firefly Orthotics and the University of Southampton and support from Buspencilcase Communications, we can now offer the first come  – 25 free books to practices willing to promote and donate at least one book to local schools with ten leaflets per practice.  Send no money, just purchase a book from AMAZON, and you will be sent ten leaflets and a free book to your address. If you keep a copy in your waiting room, patients can read the remarkable career you have followed. For those willing to purchase a book(s), you can be assured you are doing your part to promote podiatry, your practice, the scope offered as a free advertisement, and you can use the book in any way you feel benefits you personally.
Sharing in the landscape project means that you are taking a lead and ensuring podiatry is seen as a medical profession and is the primary focus for all foot health queries.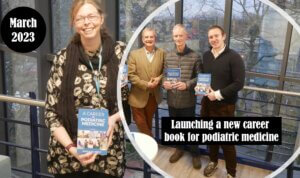 Lt- Rt – Dr Emma Cowley, author-editor David Tollafield, Profession Alan Borthwick, Mr Benjamin Jones
This is the perfect publication for those who like to attend career fairs. There are two colour versions, one in paperback and the other in hardback. Hannah Roberts and Phil Hendy provide a little insight into how they view promotion. This article was published in December 2021 by ConsultingFootPain.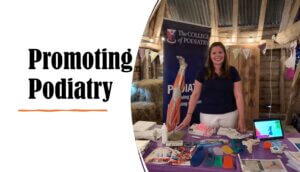 Hannah Roberts podiatrist
---
Produced by Busypencilcase Communications Est. 2015