From Alternative Medicine back to Podiatric Surgery
A Career Series in Podiatry – Steve Kriss
Steve's journey into podiatry was influenced by his aunt and uncle who practised podiatry in Birmingham. Now coming up for retirement, he allowed ConsultingFootPain to peer through the window of his long and successful career. He would admit his main profession was podiatric surgery but his skill set embraced areas that might not be so obvious.
Changing the Focus on Podiatry
Having done a stint in the Israeli army having left the UK at 15 he was successful in being accepted into what was then the Salford Tech, Northern College of Chiropody in 1979 on his return. Upon qualifying, he became interested in complementary medicine and took up a part-time, three-year course in traditional Chinese medicine. At the time he moved to London and worked for a dynamic District health Authority at City and Hackney. It was here he met Don Beaton, and future podiatric surgical colleagues Trevor Prior and Nat Padhiar.
"It was this supportive environment that encouraged us to increase our knowledge and skills. `I was surrounded by enthusiastic colleagues and a forward-looking management team. That was the launch pad for many people that are now well-recognised leaders in the profession."
Clearly, Steve wanted to push his academic credentials and skill set and following his acupuncture qualification he commenced a Master's degree, but as a research degree rather than taught. It might be worth pointing out that podiatry at the time had no formal undergraduate degree but a diploma and although many podiatrists of the time took degrees, these were not formally based in podiatry, although an undergraduate degree would shortly be launched. 
Steve's research degree was based around a clinical trial, looking at the aetiology (cause) and management of plantar fasciitis, a common form of heel pain in the foot. One of his tutors was the well-known Leslie Klenerman, a well-known and respected orthopaedic surgeon based at Northwick Park.
It would be true to say that at the time podiatrists were not always welcomed and Steve amongst many progressive podiatrists had to establish methods to acquire imaging and blood tests. Now working at Bart's Hospital, one of the oldest hospitals in the country, his association with rheumatologist Dr Ted Huskisson provided the type of mentoring and support which also helped Steve's research. 
Steve forged good connections with the diabetologists and rheumatologists and orthopaedic surgeons when he worked at City and Hackney. As a qualified acupuncturist, Ted Huskisson, recruited Steve to work in his rheumatology clinic as part of a multidisciplinary team (MDT) at a time when MDT did not include podiatrists.  This break allowed Steve to work half a day a week as an acupuncturist. He broadened his network of clinical associations with a homoeopathic doctor and ardent researcher Tim Spector, then a registrar on that clinic, who is now Professor Tim Spector and has contributed to tracking Coronavirus.
Not all podiatrists are keen on research or take an academic pathway, and even fewer retain clinical academic pathways, but as light follows dark, most podiatrists enter into some educational role.  Another consultant rheumatologist (Dr Joel David) invited Steve to Reading to do an acupuncture clinic at the Royal Berks Hospital.
"I would go out, I'd teach at the School of Podiatry on a Monday morning then I'd drive to Reading, I'd do an acupuncture clinic in the afternoon. And Joel incorporated me increasingly into his clinic. I'd go to the ward rounds, I'd go to the multidisciplinary meetings, and it was there that I began to learn about the interventions and conditions that Rheumatologists treated. It was like a whole new world and I became fascinated by it."
In this environment, he needed to update his medical knowledge to be able to converse with other team members who were involved in treating complex patients and this set him on a lifelong passion for the importance of medical knowledge within the field of podiatry. His quest for knowledge allowed him to network and be involved as a serious contributor. As his knowledge grew, he could combine podiatry and acupuncture and felt he could make a difference. Steve then started to work at the Royal Free Hospital in London and became involved with Dr Carol Black, where there was a huge unit treating patients with scleroderma [link], and connective tissue diseases. We all think of bone, muscle and skin as connective tissue but the musculoskeletal system depends on this tissue as suggested, connecting structures at all levels not just bone, muscles and skin.
Thrown in at the deep end he was employed as an individual by the hospital, and he started to become interested again in diseases to which he had had no previous exposure.
"This was a National Centre of Excellence doing lots of research and open days, and I was asked to present at the open days this time in terms of foot problems. So it kind of grew and snowballed from there."

Changing Direction
Back in Reading, as an employee through the rheumatology department, he continued to work there for 20 years. It became apparent that there was a big waiting list for foot surgery.
"There's always been that relationship that I've had with rheumatologists. I think, on the whole, they've often been disappointed by the quality of foot surgery carried out by their orthopaedic colleagues, and they had found (at the time) that orthopaedics weren't that interested in the foot."
Steve started his surgical training whilst working at the Royal Free Hospital in London and the Royal Berkshire Hospital in Reading practising both podiatry and acupuncture. Making the change and developing surgery led to his Fellowship through the now Royal College of Podiatry. Most podiatric surgeons adopted the title 'surgeon' after 'podiatric' to differentiate their role in podiatry, but also to distinguish this from other surgery. Podiatric surgery is not orthopaedic surgery despite much overlap. There was some opposition from the orthopaedic fraternity. Many podiatric surgeons who forged the vanguard, have found over the years that opposition has seeped away and, in some cases, orthopaedic departments today engage podiatric surgery as part of their directorate [1].
"After almost 35 years I'm no longer working in the NHS, I am invited back and lecture to the Rheumatology Journal Club at the Royal Berkshire Hospital, and to their multidisciplinary teams, and they still invite me back even though there's an orthopaedic foot and ankle team at the Hospital, the fact that they invite me is a huge honour which is great. I've always had that link in with rheumatology and I've got on well with them."
Working in four private hospitals, two in London and two in Reading has kept Steve busy and fulfilled. The work is a mixture of private and NHS contract work, typical of many podiatric surgeons' workload.  He now works four days a week and starts theatre lists early in the morning and out patients occasionally finish sometimes 7 or 8 o'clock at night.
Steve is thinking about the next stage of his life and has turned his hand to making bread and wants to learn pottery. It may seem strange to talk about retirement in a book that directs the young toward podiatry, but then it is important for us to focus on how we want to spend our lives. Do we remain full-time, part-time or do some teaching? Do we set off sailing across the Atlantic, and take up amateur dramatics. The world should be our oyster. As Steve says, "I haven't made any concrete plans about what to do and how to do it."[2] I want to retain a connection to the profession that has nurtured me and that I have also nurtured.
In the end, it is for everyone to make their own journey but Steve Kriss's journey has been unusual taking acupuncture at a time when podiatry had not truly engaged him during the older days of the diploma course when patient care was seen more locally at foot level than holistically capturing the whole body. His experience is important to share because the most important part to learn is that you carve your own career.  Wisdom is gained from networking but success depends upon your own inner energy.
[1] Editor's note: My own experience in podiatric led me to become part of the orthopaedic directorate which although late in the day was welcomed. 
[2] This interview was undertaken in 2020
---
Other articles to read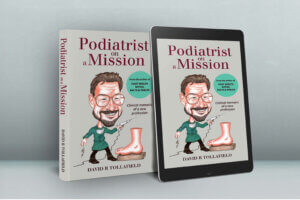 Thanks for reading "The Ardent Acupuncturist" with Steve Kriss
Published by Busypencilcase Communications. Est. 2015 for ConsultingFootPain