Welcome to 'Reflective Podiatric Practice 

Written by podiatrists for podiatrists
Most Reflective Podiatric Practice articles are marked OPEN ACCESS. In 2020 newer articles were published directly from my website  If you cannot open an article shown here please contact me at davidt@busypencilcase.com but this is only available to people signed up and registered to receive my newsfeed by MailChimp.
The reason for changing the system was to allow easier access and readability on tablets and 'phones. All the articles are best downloaded for printing or reading on a desk top or laptop computer. 
---
2018 –
Cartilage Erosion predictability in Hallux Valgus. David R Tollafield 2020 3(12):43-47 OPEN ACCESS
Podiatric Adverse Events. Part 3.  Afni Shah-Hamilton 2020.3(2):38-42 OPEN ACCESS
The Impact of anti-cancer treatment on feet. Part 2. Afni Shah-Hamilton 2020.3(2):26-30 OPEN ACCESS
Novice Speaker. The Short Talk. David R Tollafield 2020 3(3):21-25 OPEN ACCESS
The Role of Podiatrists in Cancer Care. Part 1. Early identification & Diagnosis. Afni Shah-Hamilton 2020.3(2):16-20 OPEN ACCESS
---
SERIES: How do we package Podiatry? (published as separate articles in 5 parts Dec. 2019 – Feb 2020)
This series is now available in a book called Selling Foot Health as Podiatry from AMAZON
READ THE REVIEW by Podiatrist Beverley Wright [here]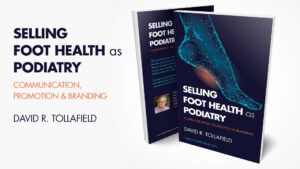 Giving Credit to our brand. 
Log, brand, strap line. 
Giving credit to our brand
How can we learn from looking at the whole canvas? 
Burden of Foot Health.
also included in the book from these reflective articles Patient Communication in Podiatry.
---
Biomedical Engineering v. Biomechanics. A reflective View. David Holland 2019. 2(11):67-71 OPEN ACCESS
Medicine What's the Point. Steve Kriss 2019. 2(10):64-66 OPEN ACCESS
Corticosteroid Injection for Podiatrists. A little bit of reflection. Ian N Reilly. Reflective Podiatric Practice. 2019. 2(9):60- 63 OPEN ACCESS
Continuing Professional Development. A Short History. 2019;2(9) 61-64. Ivan Bristow OPEN ACCESS
Reflection. 'Sorry I should have been more specific!' 2019;2(9):51-55 OPEN ACCESS
Reflection. 'sorry I should have been more specific!' Podcast (audio) 15'21"
We should always have an opportunity to change attitudes. David R Tollafield. 2019(8):46-50 
Prosthesis, patient and podiatrist. Reflection from expert witness days. David R Tollafield. 2019(7):39-45 OPEN ACCESS
Why Does Treatment Fail? The Neuroma Timeline Phenomenon is Not New. David R Tollafield. 2019(6):33-38 OPEN ACCESS
Become a Black Box Thinker. David R Tollafield.2019 (5):28-32 OPEN ACCESS
Patient Communication in Podiatry. How much time should we allow for consultation? David R Tollafield.2019(4):22-27 (Now a chapter in selling foot health)
Evaluation of the UK Health Profession. A Clinician's Perspective. 2019;2(3):16-21 David Holland
Critical reading improves your judgement. Reflections from authorship.2019;2(2):9-15 David R Tollafield & Tim E Kilmartin OPEN ACCESS
Why Publish? Is it just a notch on a rather superior bedpost. 2019;2(1):1-8. Tim E Kilmartin OPEN ACCESS
---
Defending a Case in Court as a Podiatrist (11) 2018
Reflection – Going to court, Consent and Clinical Practice. David R Tollafield. 2 2018
Consent and communication RPP 2018 (10) David R Tollafield. OPEN ACCESS
Case History (Legal) – Consent under test. David R Tollafield.1 2018
Comparison of Four Disinfection Techniques for clinical Instruments in Podiatry. An original paper (9-part 2). David R Tollafield. article relating to past practice (9) OPEN ACCESS
Motivational Interviewing for Podiatrists. Rosi Targett (8) 2018 OPEN ACCESS
Charting the first use of corticosteroids by podiatrists. An original paper. David R Tollafield. 7) 2018 OPEN ACCESS
The Dawning of the PGD David R Tollafield.6) 2018 OPEN ACCESS
Learning from History. Podiatric surgery development from its conception. Ralph Graham (5) 2018 OPEN ACCESS
A story called 'In the Shadow of Hippocrates' A look back in history David R Tollafield. (4) 2018 OPEN ACCESS
Progress through the Art of Communication Image and branding  David R Tollafield. (3) 2018
Published by Busypencilcase Reflective Communications Est. 2015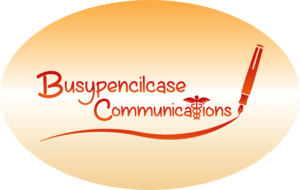 Last updated 29 March 2021