Seeking a health-related course after school
A Career Series in Podiatry

–  Ben Yates
Starting life with a blank sheet can have its benefits. For the school leaver without looking after a family or similar responsibilities, this is the time to take a different direction, as we saw with Emily in one of the other stories. Travelling abroad widens your scope, your maturity grows, and you view the world differently.
These days Ben Yates works at The Great Western Hospital in Swindon as a consultant podiatric surgeon; however,  before this his career had been equally exciting. His was a tree that bore fruit, grow more opportunities from each decision. From his accidental foray into podiatry, he travelled to India, which influenced the direction his career would take.
Early influences
His story focuses on both variety and the rich source of professional opportunity for those willing to take the leap of faith. Doubtless he was influenced by his parents. His father was a research professor at a university and his mother was Head of Biology at a tertiary college. Teaching and learning were in his blood. Later he would teach himself. Ben drifts back in time to 11 years old.
"I had a huge verruca on the underneath of my foot about the size of an old 50 pence piece and it was pretty sore. All my mates were kind of ribbing me that I'd have to go to hospital and have the thing cut out and it would be painful and all the rest of it. My Mum took me to see a podiatrist and he got rid of it completely painlessly. He was sort of in the background of my mind, so eventually, when I decided to do a health-related course, I weighed up the various options of trying to get into medicine. I wasn't particularly interested in dentistry. Physiotherapy was the other thing that I was interested in. I used to play a lot of sports and still play a bit, so I was interested in sports injuries management, and I was interested in podiatry. So, that's how it all came about."
Ben trained at the oldest college and hospital in England, the London Foot Hospital, now part of East London University, qualifying in 1989. At the time and even years before, students were exposed to general surgeons and orthopaedic surgeons. Ben also experienced the work of the plastic surgeon covering burns management.
The lecturer who taught medicine was inspiring. In the mid to late eighties, podiatry students lived in the halls of residence on Gower Street for the first three years. Ben stayed in London for three years after graduating and built a network of friends around University College Hospital and University College London. He worked for Bloomsbury Health Authority and then enrolled on the Honours conversion degree as the old diploma was being replaced. He then completed his teacher training.
As far as the work was concerned, he had embarked on high-risk foot clinics, including diabetic patients and those with HIV clinics, because AIDS was epidemic at the time. Additionally, he was involved in musculoskeletal work (MSK) and undertaking schools screening clinics. 
"I was doing a lot of areas of what is now more advanced practice at a relatively quick age. And that was mainly because I was enthusiastic, I wanted to do it, and a lot of people weren't that interested, and I suppose maybe I had a slightly better knowledge as I was a recent graduate than a lot of the people who would have graduated 20 years before me."
A New Direction
Ben's motivation remains to this day, but he looked back to his past with equal enthusiasm and wonderment that podiatry had brought to his life. Ben did not know it at the time, but his skills building would take a different direction for his next move that impacted later on in his life. He left London to work overseas for 18 months, with 6 months spent in Calcutta, working for two large medical charities.
Working in a leprosy hospital gave him the drive to consider podiatric surgery on returning to England. An orthopaedic surgeon and a general surgeon would voluntarily come and operate on the list once a week. So he started working with the surgeons, scrubbing in and assisting them with high-risk foot surgery. Debridement of ulcers, excision of bones, amputations, full foot amputations, hindfoot amputations, below-knee amputations and tendon transfers were all performed to save or restore the foot to function.
Additionally, Ben saw other practices, which included dealing with appendicitis. Developing a career does not mean that we focus on one part of the body alone; the whole body determines health, and therefore we call this an approach holistic. For example, podiatrists do not assume knowledge about feet alone as foot health depends upon knowledge of medicine.
"It was a huge eye-opener to me as we had a fairly advanced practice. For example, if a bit of bone were sticking out of an ulcer, we would take that bit of bone away in the clinic. But it opened my eyes to what surgery could offer this patient group. And so, I knew from a relatively early age, within my surgical career, that was an area that I wanted to try and move into."
How does one get to go overseas?
Ben essentially self-funded his progress, saving money because he knew he wanted to travel. He contacted Mother Teresa's charity, called the Missionaries of Charity, which spread across India, but based in Calcutta. This is where Mother Teresa started from.
"The charity wrote back to me and said, 'Yes, you're very welcome to come. Come whenever you can and stay for as long as you can.' So that's what I did. I travelled through the States, New Zealand and Australia, and parts of southeast Asia before going to India, and I wrote to them when I was about a month away saying that I was hoping to be there at that time. And when I got there, I worked for them three days a week on the outskirts of Calcutta. They had what they call a leper's area there; people with leprosy effectively formed a colony around the hospital. And I stayed with the monks there for three days a week, and then I also worked for a street charity called Calcutta Rescue, which did have several projects, including a field hospital which was built every day and erected on the roadside."
This hospital treated the poor of Calcutta, where many suffered from leprosy. Ulcer and wound management were the mainstays of his workload, but he would remove a toe if it were impoverished, but in a clean, semi sterile way. He would try to make insoles to offload pressure under the foot because people suffering from leprosy cannot feel their skin, which leads to damage. One can imagine treading on a sharp object without knowing it. The wound becomes infected and travels up the leg without the patent realising that they are ill with the injury. As Ben was used to dealing with a person with diabetes who also had the problem called neuropathy, he understood the physiology and the likely impact. Insoles and special shoes can help significantly.
"I started my surgical training in 1993 after returning from working overseas and started doing the academic part of the surgical training and took a teaching job the next year in Northampton. Then, however, I was offered a teaching role out at La Trobe University in Melbourne in 1999."
During his time in Australia, and not allowing the grass to grow under his feet, he spent three years working with two experienced Australian podiatric surgeons. It was here that he expanded his skills in rearfoot surgery where his colleagues had been influenced by the Podiatry Institute in Georgia, USA, where they had spent time. Having viewed some complex foot reconstruction surgery, he started doing surgical missions in Vietnam.
"I really enjoyed doing that. That was also another useful learning experience, as well as feeling like you're giving something back. So, we would spend three weeks in Hoi An in Vietnam teaching the locals."
Ben worked out of Danang Hospital covering clubfoot surgery in children, as well other abnormal deformities not generally seen in the West. Ben and his wife returned to the UK, where he took over the Head of Podiatry at Northampton, bringing his dreams of teaching to the foreground. However, while teaching was his passion, so was surgery and he took up an opportunity to work at the Great Western Hospital in Swindon within the orthopaedic department.
The Final Goal
Ben being an affable and easy-going character had no problems becoming well acquainted with local orthopaedic surgeons. One surgeon was supportive, and they talked about foot and ankle surgery.
"'As far as I'm concerned, it's all about your experience and your knowledge, and if you have expertise in those areas and competence in those areas, then that's something that can be expanded into.' I don't think he probably quite envisaged that I would go as far as I have done. But, still, fair play to him, he was very much driven by it's all about your ability and your competence and if you've got competence and ability in those areas, then that's fair enough."
One thing led to another, and word soon was broadcast, so when Ben was approached by the endocrinologist and the general surgeon in the diabetic foot clinic, he jumped at the chance. While competition between orthopaedics and podiatry is well known in surgery, the benefits of commercially combining skills were recognised at Ben's hospital. Today his experience and position have allowed him to work in orthopaedics. During the pandemic, his talents were recognised to assist with many conditions traditionally carried out by the orthopaedic team.
Ben's story is not just about making good, but it illustrates that if you have a goal and are prepared to work hard, you can achieve respect and fulfil your dreams. Of course, as a professional, each of his experiences required him to develop an aptitude to learn. So he sought out those who could best influence his expertise. Still, by volunteering and making use of skills overseas, he ensured he was able to expand his podiatry career with confidence.
Ben Yates has influenced other podiatrists to follow his trail. You can also read Ali Clarke-Morris's experiences of leprosy in India on this site.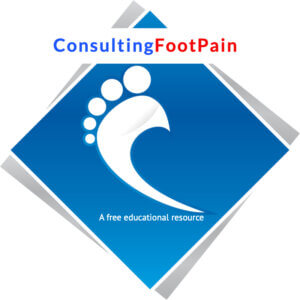 ConsultingFootPain publishes articles regularly about podiatry on this website as well as books on podiatry (available from Amazon). Look out for more articles.  For teachers interested in the career of podiatry the profession has hooked up with an initiative called inspiring the future. This link will take you to the article 'A Career in podiatry – more information.'
---
Thanks for reading "Podiatry and professional opportunity" from an interview with Ben Yates, FRCPodS with David R Tollafield

Published by Busypencilcase Communications Est. 2015 for ConsultingFootPain