A Passion for home visits
Louise Kennedy was no different from many men and women. A diversion to podiatry opened up a new professional option, although it was not her first choice. So often this area of health management lies dormant as an option. In Louise's case her journey takes us to agency work then the house call, home visit, often known as the 'dom' or domiciliary, as part of the role of a visiting podiatrist. This remains a popular option for many, fitting in with life styles and family.
Love it or hate it there is a need and behind the visit a whole host of options and job satisfaction emerge. "It wasn't a burning desire particularly to do feet, but I don't regret that I did," she says. Trained through the London Foot Hospital (LFH) her grounding in podiatric medicine was wide and varied.
"I remember having patients with leprotic ulcers in clinics. LFH was a fascinating place to study at the time. The course, part of it was alongside the physiotherapy and medical students, so we were part of a bigger community."
Industry starts with agency work
After qualifying Louise commenced locum work all over London. She found herself in a different location every day through doing agency work, some in doctor surgeries. The locuming side lasted for the first two years. She then worked alongside an osteopath friend who ran a sports injury clinic.  Working alongside him took her to Canary Wharf where some of the big investment banks had health centres. Her curriculum vitae (CV) was given a healthy boost and she ended up in the BBC in White City in their gym and health centre.  Several months were spent in Harrods in their health and beauty, giving her a whole different experience.
What does locuming entail?
"At the time of qualifying, some 25 years ago, there were a couple of agencies that I was registered with, and quite often I would get a call in the morning and say, we need you to cover a clinic because someone's ill."
Using a scooter she whizzed across London to do a day in an NHS clinic, ended up working, in nearly every health authority in Greater London when I was there at some point. She loved the variety and a passion for visiting grew. At the time she found she could earn more in a couple of days a week doing locum work than her friends and colleagues working full time in the NHS.  "I don't know if that is still the case, she points out, but at the time it definitely was more lucrative." The downside to agency work would be having enough work, but this was not something that troubled Louise Although paid more as a locum on an hourly rate there was no holiday pay. "When you're not working, you don't earn anything or pension provision." I asked her would you recommend someone starts to go into locum work?
"If you're the type of personality that enjoys variety and not having a fixed location, or even knowing where you might work day to day, this might appeal.  You could find it stressful just having to walk into unknown situations so you need to be quite adaptable. I think you gain incredible experience in doing that because you see how different departments work and different health authorities work.  In that sense, I think it's invaluable experience."
Transferring skills
Louise worked in France for 13 years, initially going out for one year and ended up staying.
"I used my degree as a science degree, and I worked for the European Science Foundation and I covered various roles and ended up working organising all the meetings and attending the meetings for the European Space Science Committee. Rather different to podiatry."
Louise travelled around Europe, organising conferences as a secretary, writing the minutes and organising the logistics all based on the fact that she had a science honours degree. She believes podiatry offers both a degree, a profession and an opportunity to be self-employed. You can come out and have an earning capacity immediately and the status of the science graduate with the honours as well.
When she returned to the UK, she opened a flower shop and found many of her manual skills developed through podiatry helped in this new venture. In time the call to return to podiatry came as an associate in a practice was leaving and an opening appeared so she went back into clinic. When another associate moved to Scotland this allowed her to take on the previous person's work load undertaking house calls. Her business grew from this point. Having time out does require being mentored on your return as part of a requirement to return to full practice.
The concept of the home visit
Domiciliary is predominately visiting people in their home, in a domestic setting – the meaning of the word. It's also taking the podiatrist into people's homes, and anything outside the clinic. Care homes are included.
"Within the domiciliary practice you deal more with mental health issues and health institutions, supported living environments. I've been into homes for non-verbal (learning difficulties) adults. A variety of different places really, it's not just in people's homes. I've seen people who normally attend clinic who've maybe fallen over, broken their hip and they can't get back to the clinics. I've seen them at home and there's a continuity of care there also. And for them, there's the added bonus of this trusted individual who they're welcoming into their home."
Adopting mixed roles
"Patients who cannot reach clinic need our help to retain as much mobility as possible, she says. To keep them pain free. You might be the person that realises in a wider healthcare team that actually this person's got certain problems because they're sleeping in a chair rather than a bed."
There are no two days the same. There is a different connection with somebody when you're going into their home, compared to someone attending clinic. You may visit a farm one day, or a nursing home another. Flats, semis, cottages, and on one occasion I had visited a patient in a windmill. There is poverty and privilege, but you have to learn not to judge. As Louise points out when we see a patient in their natural environment, we don't just see a patient but we can take on board how they live as well as identify more accurately their social capacity, their movement and what they wear on their feet.
"When a patient comes into clinic, they may show off their best shoes while at home they live in a pair of old slippers with the sole falling off. These observations are a way of identifying many foot conditions.  They might have blisters on their leg and when you visit them at home and you realise, they're sitting 15 centimetres away from the fire or something."
Damaged shins from fires were something taught in the older schools like LFH. We talk about fuel poverty today in 2022, but keeping warm has always been a concern, more so for the frail, immobile who cannot move and generate their own heat. Podiatrists should be aware as much as an health worker going into homes to make a wider assessment beyond the immediate area of their own skill. In some ways the podiatrist adopts the role of social worker  or even an occupational therapist, through abstract observation.
The assessment of mobility is often more perceptive than when seen in clinic. Trip hazards from carpets. Patients are not always elderly but maybe housebound or terminally ill, be stroke victims, suffer from multiple sclerosis. They're people who have maybe more complex health issues than you would see in clinic, that have hospital beds in their room and they have carers who visit several times a day. All this makes the podiatrist's approach different to dealing with somebody who's in a clinical environment.
"When you see someone's home, they have photographs, and you learn about the person and you're talking to them while you're doing your job and making a genuine connection with that person. The fact that you go in and you'll be cheery faced, and that you're a trustworthy person, to make a visit can make a massive difference to somebody's day . So many elderly people who are suffering from dementia, and they'll ask you 10 times if they've paid you and they hand you an envelope with 20-pound notes and take what you need. I dread to think, somebody who isn't honest. So it's nice that you can go in and out and you feel that people had a safe person in their home."
Louise points out that in someways a bond forms between patient and podiatrist so that you become a friend sharing personal information between two parties. Inevitably because of the time spent, you may talk about your family, holidays and even hobbies – something a clinician would be less likely to undertake in a busy clinic.
"Even when you may not feel at your peak you put on a happy face and at the end of the day, you can be rewarded with the satisfaction that you have given life meaning for the patient."
The image that is presented is not just someone who manages feet but considers everything that makes a person human from dignity to ensuring they are safe. Louise says, "I've walked away thinking I'm not sure they haven't taken an overdose."
While not being directly in contact with a GP practice or health centre, following up a case may require contact through the family. "Some GPs ring me back when I've had a real concern and I've really pushed it because I've had a concern somebody for somebody's safety or I've had somebody that their foot was infected with maggots and things. In general, it's more through getting the family to act, or alerting somebody's family to there being a problem."
When she sees a patient, she'll take a full medical history. The patient is often surprised why they are be asked what medication they are on.  She deals with everything to make the foot pain free and comfortable. While the NHS provide the bare essentials of care, and as a private practitioner there is an opportunity to beyond that. And as a private practitioner, I think you have the ability to see people more regularly.
"You don't have the same restrictions as an NHS practitioner. With our appointments, they're told we'll come and see you on that day. They're hanging around all day, waiting for someone to come.  I don't think there's an excuse for that necessarily. So I can go in. They know they're going to see the same person every time. They know when I'm going to arrive, and they know what they're going to get."
A full treatment not only deals with the chief complaint but looks at the condition of the tissue to ensure it is stable, can heal and is dressed appropriately. Avoiding infection and minimising the effects of pressure helps in this regard. You leave the foot in a condition that you hope will have the least problem by the time you see the person the next time. Instruments today must be sterilised and the advent of prepacked or disposable instruments alongside PPE has become practice standard. The domiciled patient who cannot leave their house often sees few people in a day and a podiatrist is the first to spot something given that fewer healthcare professionals than ever visit in this new age of post Covid. Many podiatrists continued to support their patients throughout the period of the pandemic in 2020-21.
At the time of writing, the NHS has reduced and limited the house call for footcare management. Most NHS care is provided in clinics but the services today highlight those at greatest risk. Since the late eighties, the number of domiciliary visits has dropped dramatically and waits for visits can vary between Trusts that do run visiting podiatric services.
The house call is one that is unique. The fact that one works out of a bag makes it different to clinic where most things are to hand. My own experience as a young podiatrist mirrors Louise and allowed me to find many tales often stemming from the podiatry house call; some hugely comical while other carried sad stories.
All podiatrists should experience the house call but for many, other avenues will be more attractive. For those with podiatrists with families and want to optimise or mix their daily routine, the domiciliary practice holds many benefits with lower overheads. There is a job satisfaction but inevitably the scope of practice is more limited away from a fixed clinical set up.
---
You can read many other podiatry career journeys on ConsultingFootPain
What Career to Choose After School?
Read the background to podiatry from author covering personal tales from home visits in Podiatrist on A Mission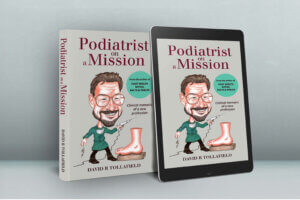 Thanks for reading "Podiatrist on-call" with Louise Kennedy
Published by Busypencilcase Communications. Est. 2015 for ConsultingFootPain