Podiatrist working in a dominion of the UK
A Career Series in Podiatry – Kayron Pozo
While podiatry may not light the candle for some, mature students appreciate the flexible range of options offered. Those who arrive late to podiatry often benefit from their past experience in business. In this series examples reflect school leavers as well as those who have returned to an academic clinical education.
Kayron provides an impression of his experience as someone living in a British Dominion, but who trained in the UK. He originally qualified as a paramedic, but his father was a podiatrist. After the ambulance service provision became "a bit of shambles," as he says, he looked at podiatry.
"My understanding of podiatry at the time was probably like most people who don't really understand podiatry. People go to podiatrists to get their nails cut, get their corns done. That's the sort of service my father used to have here in Gibraltar because he trained many years ago. I started reading the changes being made in the profession, biomechanics, extension in surgical practice."
He took his diploma initially then extended this to a degree through Queen Margaret University, and then completed a Masters in Theory of Podiatric Surgery. This is a joint programme between Queen Margaret and Glasgow Caledonian. At the time of the interview his next plan was to complete his surgical training in podiatry.
Gibraltar
Much of Kayron's work has been in private practice which he considers his bread and butter. In Gibraltar there are about four full time podiatrists serving a population of 32,000. Since November 2019, the health authority started a podiatry service and he was lucky to be the first employed in that role.
Meeting the challenge
Kayron Pozo provides an example of how he has integrated podiatry into health care and continues to build upon his training in the UK and academic exposure to turn around a service that from his father's days was seen as somewhat basic to a service that works with multidisciplinary teams. GPs do defer to podiatry and because of the small population, developing a new image is both challenging. When he started out, he was told to develop this service, but nobody knew how to develop it. So he spoke to the practitioners that dealt with the most vulnerable type of patients.
"The Gibraltar Health Authority has a podiatrist that goes around to people's houses and does the routine work. So there's two of us, myself in the hospital and one in the community. But what I thought was very important in the hospital was to look at all the more serious cases, and how we could actually put all of that under one umbrella."
He spoke to the diabetes service and then the GPs, and said, "Look, these are the problems which we tend to see within podiatry. Obviously, these problems you must be seeing yourselves here but possibly at a more advanced than what I would as a podiatrist in a private practice. Can we sit down together and look at prevention as well as obviously treating the problems"
Working for the hospital is very different where he see complex cases such as the diabetic foot, and more MSK work. There is no routine service done at the hospital. Kayron works with the local foot and ankle surgeon here in Gibraltar. Multidisciplinary team (MDT) clinics run once a week, and there is good interaction.  
Kayron sees routine nail and callus work falling to the domain of foot health practitioners. As with most professions, each expands and refines its role through education and natural progression. once a month I run a paediatric foot clinic with the paediatric physical therapist, and what we do is all referrals that come in for insoles or anything which is foot related, we sit down together and we look at those.
Kayron works with the diabetes service in Gibraltar, where the diabetes is referred in so he runs a clinic once a month or once every two weeks is run clinics where nurses and other members of the MDT are all together. They cover neuropathy, vascular supply, ulcer and wound prevention and identifying pressure points in the foot.
Gibraltar is a very small community. Kayron sees his role as expanding the service to bring in the advanced learning he has experienced based around his Master's degree training. "I see a lot of cases in private practice referred from GPs, who often ask the patient has not seen the podiatrist first?"
His connections with the UK are close. He agrees Gibraltar could do with more podiatrists. The system in Gibraltar is similar to the UK. The Gibraltar Health Authority is free to the user because it's all covered through National Insurance, although it is called Social Insurance. All podiatrists have to be registered in Gibraltar and with the relevant UK body So for example, Kayron is registered with the HCPC.
Proximity to Spain and podiatry abroad
Of all the European podiatry professions, the Spanish podiatry profession is the strongest. It has a much wider range than any other European group of people dealing with feet with the exception of the British. I asked is there a relationship you have with Spain? Can you work in Spain, given the fact now we're no longer in the European Union in the way that we were? What is the situation?
"At the moment Gibraltar is out of Europe because we're linked into Europe with the UK. So when Brexit hit, we had to leave Europe as well. So for us, we're in exactly the same boat as anybody would be applying from the UK to Spain. You'd have to apply to them showing qualification. Depending on what region that you are in Spain, you'd have to register with the in that particular region. I've never registered in Spain because I've never needed to. I've always been quite busy in private practice, which I've been until November 2019. I know there was one or two podiatrists who were registered there, and they used to travel back and forth. But we would be in exactly the same position. We would have to register the same way as you do, we would have to be accepted in the same way that anybody from the UK."
Podiatry exists world-wide but is more developed along the British system than the USA. Canada has the unique distinction of having some provinces with mainly US trained doctors of podiatric medicine (DPM) while others are based on a mixed British Canadian trained system where the term chiropodist is still used so as not to conflict with the US trained podiatrist. South Africa, New Zealand and Australia are larger hubs but Singapore, Hong Kong also have those often trained in the UK.
Kayron in some ways is lucky because he has a limited population, good support, has built the right credentials and is motivated to take Gibraltar toward the idea that full services should include surgery. Podiatric surgery dominates in the USA, UK, Australia, and parts of Canada, while Spain also undertakes surgery as podiatry.
While COVID had impacted on many of Kayron's aspirations it is clear that he sees his future in developing a broad service having built excellent links.
---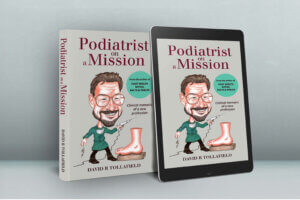 Thanks for reading "Podiatrist in Gibraltar" with Karon Pozo
Published by Busypencilcase Communications. Est. 2015 for ConsultingFootPain