Podiatry Goes to the 2012 London Olympics & Paralympic Games
A Career Series in podiatry – Nat Padhiar
Sports medicine and podiatry form one of the fastest areas of development in the career of a podiatrist – but training requires self-discipline and acquiring good mentorship. Meeting a Guru Professor Nat Padhiar is a delight. He can boast a list of awards from a number of organisations and his curriculum vitae runs to 30 pages.
Nat discusses his approach to sports medicine, his own aspirations, the Olympics, a course he has helped develop in podiatric sports medicine (PSM) and, his passion for tendon injuries, exercise-induced leg pain and injections (interest prolotherapy).
The Dawning of New ideas
For those keen on developing any career, we all have to learn the fundamental science of the foot. This concept does not apply to podiatry alone. The exciting part about podiatry is that it continues to develop. Those professionals entering podiatry can provide a core service to help the public or take their undergraduate learning further.
There is no quick fix, no rapid elevation to specialism, specialism must be earned through actions and results. Although the progress in podiatry has been extensive since the 1970s. Half a century of new ideas and innovations constantly offers challenges to those who like to learn, develop, and lead.
I wanted to talk more about his work and the ethos behind sports medicine & podiatry and his passion for sports. Nat tells me that ever since he can remember, he has always been a keen sportsman. His passion is cricket and when aged 15 years, he represented Uganda schoolboys. The game he still plays and spectates. He also played and enjoys tennis, and rugby and, represented his school at the Uganda National Championship in Track & Field events, 800m, 1500m and Cross country. He took up marathon running in the mid-1980s and has completed 37 marathons and well over 200 half marathons, all for charity and fun.
Actions develop learning
Nat believes that to be a successful sports medicine clinician, the key is to understand the sport and the participant. The best way to have a better understanding is to take part in the sport. In his professional capacity, he has been part of the medical team and has attended World Student Games (1991), Commonwealth Games (2002), Island Games (2003), Everest Marathon (1993,1995), Mongolian Sunrise to Sunset Marathon (2001-2003), Daily Telegraph/British Brain & Spine Foundation London Marathon Team (1999-2007), London Triathlon (2005) and London 2012 Olympic & Paralympic Games (2012).
Turning point
Nat Padhiar's epiphany came as podiatry was incorporated into the Olympics. He was appointed a member of the Medical Service Team for the London Organising Committee for Olympic & Paralympic Games (LOCOG) in 2007 and, was the Clinical Lead and Team Leader for Podiatry at The London 2012 Games. He was based in the Polyclinic, Olympic Village in Stratford for the entire period of the Olympic & Paralympic Games 2012.
"We had 16 podiatrists, 4 podiatric surgeons, 8 sports podiatrists, 1 general podiatrist and an academic podiatrist – it was a nice cross-section. That not only put us on a map, but it gave us that elevation we needed and then things started to move." This was the first time in the history of the Olympics that podiatry was this well represented.
Early challenges
There were many challenging discussions and debates about the role of a podiatrist in the London 2012 Games. The role of podiatrists was perceived to be limited to superficial structures, biomechanical assessment and providing orthotics. This was not the vision Nat had and working with a LOCOG medical team that involved people from the International Olympic Committee (IOC) and other medical members, he had to justify the inclusion of podiatry within the London 2012 Games. The scope of Practice he had envisaged was very different.
"We're talking about taking an athlete, making a diagnosis, investigating, confirming and treating it and returning them back to sport." Nat was challenged to – "what he would do if a medical problem came along, like gout?"
Nat's answer was decisive, precise and in keeping with medical guidelines
Imaging to identify if there was damage to the joint cartilage – erosions. 

Identify any obvious radiological change

Check blood levels for the 

serum uric level

. 

Balance medical needs with the patient. 

Consider the athlete's prospects of medals and financial commitment.  
Podiatrists have prescribing advantages 
Nat promoted a strong team ethos and believed his case could be argued by liaising with doctors, physiotherapists, and specialist rheumatologists. The main aim was to assess whether a player or athlete could safely be returned back to the sport. Keen on evaluating all the risk factors he would make the case for injection therapy. Nat had a competent understanding of his own field of expertise but importantly he could embrace the overall team objectives. 
As time progressed it was clear he could bring skills to the field of sports medicine because of his own training as a podiatric surgeon. With many physiotherapists not wanting to use imaging or use prescribing privileges, they relied on medical doctors. Nat was able to point out that his team should have full access to radiology (investigative as well as interventional) and drugs which are on the Prescription Only Medication list for which all podiatrists are annotated on the HCPC register. He wanted his team members to provide an altruistic complete care for the athletes.
"We are one of the three professions that can legally inject human beings. We have the right to inject local anaesthetic and we can inject steroids. Looking at our profession, why are we so fearful of injections and why are more members of our profession not using injections as part of their patient care?"
The pharmacist on the team pointed out that –
"We do not have individual prescribing categories in the Olympics, within IOC. What we have is our IOC Olympic BNF – not the British National Formulary. If you want, your members can have full access to all the drugs, as long as they are prescribed within their scope, training and expertise. There are no restrictions." 
A career in Podiatric Sports Medicine – Advice following qualification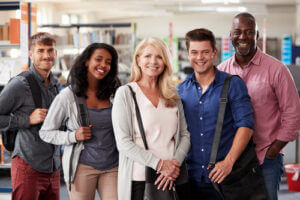 Nat Padhiar pioneered a course at the Queen Mary University of London along with Professor John King and other medical & podiatry colleagues, encouraging health professionals, as well as podiatrists, to look beyond the basics and find a speciality they can truly contribute to by bringing their own skills to a team. 
There is no apology for recognising his course as medicine and not podiatry alone, as he believes strongly, that we should expand our role.
For the student looking for a career, complete your BSc and engage with a subject that will bring as much motivation and enthusiasm as some of the other speciality areas in this career series.
London 2012 Games made a huge impact on sports medicine and podiatry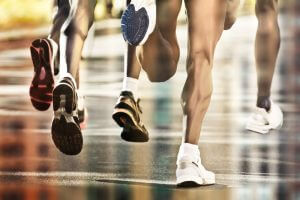 The London 2012 Games changed the vision of what a podiatrist could offer overnight. Today Professor Padhiar's personal clinical workload is around 80% with sports. This ranges from Sunday warrior to professional and elite sports. To be a podiatric sports medicine specialist he believes in total involvement.  He says of biomechanics, the study framework around musculoskeletal medicine and human movement  " is like an investigation. You look at why athlete keeps getting recurrent or chronic injury to see what factors are playing a part in their biomechanics."
Having listened to a number of his presentations at conferences over the last few years one of his main passions surrounds the problems associated with tendons.
Passion for the Achilles tendon
Nat's interest in the Achilles tendon stemmed from the fact that he was seeing a lot more Achilles tendons 15 years ago and was injecting tendons with steroids. Delving into the literature he wanted to learn more from the evidence and was not entirely satisfied with the results in trying to mobilise his Achilles sufferers. Auditing, using pain scores and better protocols he compared his own results; especially where treatment did not go to plan. He has developed a mantra which of course is the basis behind the principle of reflection.
'Well, that one did not go according to plan, and I keep getting the same problem over and over again. So, what am I doing wrong? What should I be doing differently?" And then you assess, and you go forward."
The Achilles tendon pathology was always a bogey because we never actually improved anything 20 years ago, he explains with the enthusiasm of a schoolboy who has just scored a goal. "In order to get good results and justify treatments, we need to establish an evidence-based mindset. The current understanding of Achilles tendinopathy (AT) is based on failure to repair, it is not an inflammatory condition, presence of neovascularity and immobilisation does not work. Working in a multi-disciplinary team, Nat was instrumental in innovating high volume image-guided injection (HVIGI) specifically for mid-portion AT. This is now widely accepted as first-line treatment of choice." 
Nat believes that every podiatrist should migrate toward a treatment that helps the patient positively and this technique he believes works as a standard approach for Achilles tendinopathy. The introduction of this method has eradicated the need to operate, and, in his experience, this is desirable as surgery does not always produce the desired outcome and optimal result.
As with any new programme, development and introduction take time. He currently has around 55 podiatrists who have completed the programme and have graduated. This no doubt will change as the word is spreading and podiatrists are finding sports not just an interest but a way to extend their career.
As the Dean of the Faculty of Podiatric Surgery advised his members during his 2013 address,
'To reach our goal podiatry must continue to fight for our position in the healthcare community. May we continue to prosper and support each other, as we have always done, but not be blind to our own weaknesses,' I make no apologies for being that author, but at least I recognise this aspiration in many of our forward thinking colleagues.
If you are interested in looking at a career in podiatry why not read the first article in this series – Podiatry as a career choice? You can read more about Professor Nat Padhiar, in his article on the Birth of Podiatric Sports Medicine.
Other sports-related articles associated with podiatry can be found on ConsultingFootPain.
Simon Costain Dance podiatry
---
Thanks for reading "Podiatric Sports Medicine in focus" by David R Tollafield taken from an interview with Professor Nat Padhiar PhD

Published by Busypencilcase Communications. Est. 2015 for ConsultingFootPain