Living for footwear science and industrial research
A Career Series in Podiatry – with Helen Branthwaite
It may seem curious that while feet spend so much time in shoes podiatrists do not always focus on the very item that causes foot pain. Enter Helen's story.
Helen immediately identifies with her brand as 'Dr Helen Branthwaite', but when we fine-tune her clinical interest, it is undoubtedly footwear which consumes her passion for research. "I do other things, but that's an evolution of where I have ended up." Her interest is 'everyday footwear rather than specialist footwear associated with therapeutic measures. This leads her into considering the effect that everyday footwear impacts on foot function, contributing to pathology.
The idea of moving into research for some can be less attractive while others have a zest for the academic. Helen has managed to mix family, clinical podiatry with academia; the latter is a strong trend now emerging from modern podiatry. How did she become an academic podiatrist much less someone keen on footwear science? I set out to find out more about her podiatric journey.
A torn Rotator cuff, a change of heart
Helen has always been artistic and as a young teenager had her heart set on becoming a jewellery designer. Although capable at art, and as it happens to be not so uncommon for school students, the wrong art teacher made her change her mind. She focused on her other love; becoming a competitive swimmer at national level. However, at 19 she sustained a rotator cuff injury, a common injury in swimmers that ends careers. Having engaged in a number of sessions with a physiotherapist, her interest took another direction.
She had taken up 'sports science' at 'A-Level, which included biology and chemistry with a goal to become a physiotherapist.  As fate would play a part in her journey, she travelled to Salford University, her hometown, to look at their podiatry department where they were promoting the manufacturing of orthotics at an open-day. Remembering her artistic side that had originally sparked an interest, working with materials, cutting and moulding designs, this profession had a strong appeal. The magnet of attraction drew her in to the world of orthotic design and manufacture.
Orthoses dovetailed with this type of study and management of the human body. Gait analysis was critical within podiatry.  Her decision making gravitated toward podiatry. She signed on the dotted line and said, "Right, this is for me. Never mind physiotherapy." A call came in from the physiotherapy school several weeks later offering her a position on the course. She politely declined and went on to complete her podiatry degree.
"I did my three years of undergraduate training, absolutely loved it. And in fact, I did my undergraduate thesis on looking at the power output of breast stroke swimmers. I looked at a cohort of my team mates at the local squad, those that had an internal rotation at the hip and those that had external rotation. It occurred to me that if you in toed when walking you were already at a mechanical disadvantage to be able to perform that stroke."
Post-graduate training
As with any graduate, Helen headed for the NHS as a basic grade podiatrist which these days would be set at band 5, before gravitating to band 6. Although enthusiastic and passionate about podiatry she was not entirely sure that she wanted to pursue the type of community clinic she now found herself. She wanted to expand, given that her training had provided her with a wide variety of skills.
An opportunity to enter postgraduate training allowed her to undertake a Master's degree in Sports Injury at Manchester Metropolitan University. The professional cohort of physiotherapists, podiatrists, and osteopaths provided an enjoyable and healthy mix which specialised in the Musculoskeletal (MSK) podiatry – looking at injury, and how this could be treated effectively by podiatric intervention.
Private practice beckoned and through her network of sports, she started treating triathletes in the north west before moving back to the NHS part-time, only this time in a different setting at a higher grade. Her designation allowed her to become involved as one of the first senior podiatrists to work in biomechanics-MSK in an outpatient department in an acute hospital. As a bi-product she worked in tandem with the local podiatric surgeon at Rochdale Infirmary with whom she had a close professional relationship.
One of the requirements of the MSc degree was to develop a research question and so she looked at simple insoles typically provided by the NHS community and wanted to study the effect of wedging, also called 'posting' using 3-D analysis.  Working alongside a Professor, the technological side was made workable through the well-equipped Staffordshire University. This foray into research spawned more interest. One of the many people she worked with was Jai Saxelby, another podiatrist who tells a great story in the podiatry career series.
There is an adage in life, 'it is who you know not what you know,' but of course, this is disingenuous because you have to be good and dedicated. Helen had both qualities; building a strong network with good people who were prepared to invest in her. She soon found she was teaching and became a part-time lecturer to deliver the contact weekends for MSc Clinical Biomechanics at Staffordshire University. Twenty-one years later she is still delivering this and has been the course leader for the last 15 years. Helen managed to fit in a family between times and private practice fitted this balance. She sums this up…
"It was really important for me to be a stay-at-home type of mum. I didn't want my kids coming home to a key under the doormat. I wanted to be there for them. I developed my private practice and research career alongside everything else."
Helen has a strong belief that podiatric medical training requires a good understanding of the shoe and its classic anatomy. She is currently researching a new tool for the clinical assessment of footwear. The hope is to implement it into routine assessments and treatment regimes. Selecting the correct footwear for the right task is critical and it is a common flaw when failing to apply basic principles. "My clinical experience drives my research interest," she says.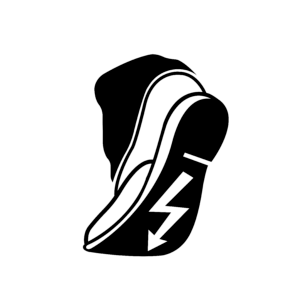 The influence of fashion on everyday footwear has a huge impact on individuals' selection. Presently, there is a trend for trainers to be worn for everyday wear. The structure of the trainer is favourable to influence function, with technology informed sole units and wide fitting uppers. She has a student at the moment conducting research into the neoteric[1] running footwear, a development seen in the Press over the last two or three years.
"Nike were the leaders in developing a shoe to improve energy efficiency and performance of marathon runners, other companies were not far behind in adopting this shoe styling."
We talked about common conditions affecting the forefoot such as capsulitis, plantar plate tear, and metatarsalgia, with the overlay of the effect when using modern materials and designs.
"If you put a patient in one of the new trainers, designed with an increased toe post, a carbon fibre shank in it, it is also beneficial for them delivering positive benefits from the shoe that improve the load and the strain and the stress that's going on in the forefoot, This also helps promote tissue healing."
Body image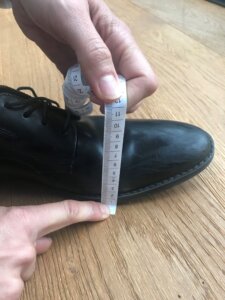 Footwear can be used to offload pressure and the technology within the running industry can assist in finding the right material to achieve this objective.
"Making the choice around how your foot functions and relating it to your footwear is critical to muscular skeletal health in the foot, choices should be made around what you intend to do that day." She points out the evidence that "everything that's sexy and attractive about footwear," comes from the wealth of literature relating to body image.
"Male or female, whatever your presentation, is that the choice of footwear driven by fashion, and therefore what's not sexy about fashion? It's the piece de resistance of artistic representation of the human being, really, isn't it? It's to present yourself in a way that you want to identify, and footwear makes a huge part of that."
Hardly breaking for breath she then pursues another frustration she has with health education. Her research focuses very much on appropriate advice and the application of footwear without pigeon holing people.
"Promoting footwear that looks like something your 90-year-old granny would wear is not going to attract younger people to change. If the advice doesn't represent how people want to present themselves as a person there will be minimal change as body image is important.  I think when we attach ourselves as a healthcare professionals to an idealistic shoe as a flat lace-up, that's all very sensible-looking with no expression in it, then we're on a hiding to nothing to engage the majority of people. Merging components of healthy footwear should ideally offer improved function, with fashionable footwear this allows expression and individualism."
Her artistic eye and flare creep in again as she considers the key parts of the shoe. She knocks the idea of the "sensible shoe" being the driver behind the formal mantra expounded through podiatric teaching.  
"There are certain brands of trainers that I would tell somebody with a neuroma to avoid because the construction at the forefoot is still really quite narrow and shallow. The upper construction is overlooked even in the footwear science industry where they focus on improving only function and mechanics of the sole unit."
Her belief and passion have extended to working with footwear companies, and although in its infancy she sees bringing fashion and function together to provide footwear that the average person will choose to wear is a great step forward. Her other strong belief is that podiatry as a profession should be at the forefront of making the bridge between giving out advice and selection. We agree that footwear has lost its edge when it comes to podiatric practice and training, further research and integration of good advice into clinic is essential.
The business woman and a new ethos for podiatry
Talking about case histories, Helen discusses a recent patient to exemplify some of the points she has been making.
An affluent businesswoman presented with a stiff toe representing end-stage hallux limitus. Having approached a surgeon, joint replacement was on offer. She had a couple of steroid injections already and wanted advice. She asked if there was any conservative therapy that she could try? "I'm not ready for flat sensible shoes yet," she said.  
"Well, you don't have to wear flat shoes. What you need with this condition is …  I then talked to her about the stiffness of the sole at the forefoot and looking for a heeled shoe with an inclination between the front and the back that was suitable for a metatarsal drop, the components of the volume at the forefoot that would relate to the osteophyte [2] and looking for straps to accommodate the bump. There's no way on this earth that this woman was walking out in a pair of 'sensible' shoes. She wasn't interested in the point where she said, I'd rather have the surgery done than wear something sensible."
Acknowledging patients' choice has never been so important as it is today. Dictating footwear in terms of the "sensible shoe" can lead to 'cutting our nose off to spite our face,' she points out. Helen believes a change in direction for footwear advice must avoid providing an image that podiatry is willing to work with people with foot problems without putting up barriers.  Not everyone is prepared to consume the idea that wearing sensible shoes is right for them.
Helen sees footwear as part of a podiatrist's bag of treatment skills. There is little point in devising a treatment plan without considering footwear, the type of activity that a person is involved with is part of the work you are doing for them.
Her focus applies biomechanics to patient injuries and then devising a treatment plan that will alter the load on their body system we consider orthoses, footwear, strengthening and other modalities to allow the patient to recover. Her patient base involves triathletes, fell and marathon runners, cyclists and some very keen hill walkers, all of that fit into that niche of injury – all of who have a high prevalence of foot problems.
The winter skier & new relationships
Podiatry functions at so many levels and Helen is not unique in developing a bespoke approach. When one man approached her with his high arched foot (pes cavus), a foot shape known for creating more impact problems than a flat foot, he followed Helen to different clinical practices to continue his care. His condition involved sesamoiditis, a painful bruising pain under the first metatarsal head. Again, surgery was offered, but as a keen skier, this option was not attractive.
"The man spent the winter out in Val d'Isere skiing, and he did ridiculous things like being dropped from helicopters and jumping down slopes. Being passionate he didn't want to give that up."
The surgeon told him with some reluctance that he could try a podiatrist but added that he didn't think he would get on very well. This led to a healthy professional relationship between the orthopaedic surgeon and Helen 15 years ago. The patient, now 78, is still doing extreme skiing!
Helen has been at her current practice for 11 years, and the practice has been there for 60 years. There are five different podiatrists all with different areas of specialism, so they can provide a broad scope of podiatry intervention for the local population.  This encapsulates modern podiatry.
Where once podiatry existed as a sole-loaner practice set up, podiatry no longer can be seen as having one dimension of treatment, but it is multifaceted. For the school leaver, there are now so many options with something for everyone. Podiatry has never been exclusive and the key message is, that there is no gender restriction. As far as placing your flag at the top of the mountain and branding your speciality, Helen ends with… "Over time, being in the same place for the same length of time gives you that relationship with the community. You're able to see people again which of course means a closer bond."
*****
[1] adj. belonging to a new fashion or trend; modern: a neoteric genre. n. a new writer or philosopher. [C16: via Late Latin from Greek neōterikos young, fresh, from neoteros younger, more recent, from neos new, recent]
[2] Osteophytes are bony projections associated with degeneration of a joint and in this case stiffness
*****
and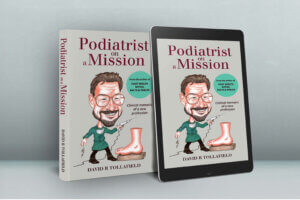 Thanks for reading "From Artist to Footwear Scientist" with Dr Helen Branthwaite
Published by Busypencilcase Communications. Est. 2015 for ConsultingFootPain