Interviews with former dancers
When Emily and Nikki decided to study podiatry ConsultingFootPain were interested in their interest in dance. It has been exciting listening to two young women who have provided a small insight into their past passion and effect on feet Dance for many of us has certain connotations. Be it a Tango or Waltz, ballet or tap dancing. Each provides a wonderment where fluid movement is beautiful.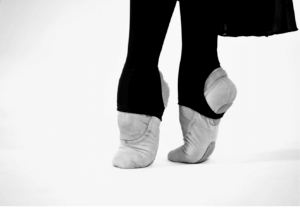 Musculoskeletal involvement
Dance podiatry is part of the overall subject of podiatric sports medicine and up until now has gained little interest. There are around 600 muscles in the human body but not all are skeletal. In order to become a dancer you have to give up social life and take the pain. We have seen how some olympian athletes who are taken on when young are forced to work through injury, none more so in the area of gymnastics. Dance is not so far removed from gymnastics and injuries can linger long into adulthood without judicious care. Although hand, wrist and knees are commonly affected in gymnastics feet are also injuries.
Emily
Balance, poise and grace come to mind but it is the foot that provides the lift and contact many times during a performance. As I spoke to Emily Reeny a first year podiatry student and previous professional dancer, she was all too aware how little podiatry was involved with foot health and dance compared to physiotherapy. As we talked about her influence in podiatry from her mother, it was clear she knew about biomechanics and MSK long before entering University.
"I was realising that this was part of it, that sort of physio podiatry struggle. I know that lots of people think about is you don't realise how important you can be in somebody's injury prevention, in trips and falls prevention and all these things, and especially coming from the background that I love… because I love dancing, and I love movement and I love helping people with their posture, and I love helping…  If someone's got a sore muscle, I love trying to figure out why they might have it. And I thought, "My gosh, these two things they go hand in hand" and I've never really realised this before that all this love I have of movement and alignment is podiatry. There's a whole section of podiatry I didn't really know existed."
Nikki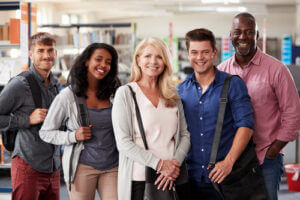 Nikki Drake is now qualified and has moved on into diabetic podiatric care, but her first love was dance. How has her view of podiatry reflected on her now forgotten past passions?
"If I had known what I know now… I would have ditched the bubble wrap and lamb's  wool in my pointe shoes along with supermarket waterproof plasters and asked for felt / silicone / padding and strapping.  The knowledge of pressure redistribution from toes would have been valuable and fitting pointe shoes better to prevent friction and mechanical pressures.  Also the advice of 'soaking feet in surgical spirit' to toughen skin wasn't so good in retrospect. 
The most painful part (I experienced)  was certainly the cuts, blisters and nail injuries (occasionally splinters from old wooden floors) that hardly had time to heal before the next practice session and affected dance ability instantly not to mention wrecking pointe shoes as the blood soaked through staining the satin.  I suppose professional dancers would have shoes supplied (or not be bothered by the unsightly look?)  but as my parents were buying them I had to keep them 'nice' for longer. That was the benefit of bubble wrap… it plastic lined the shoe preventing staining as well as comforted the toes. We used to sit with our legs up the wall to elevate them as we felt it helped healing but we had no professional advice on wound care / first aid or foot treatment. Podiatry would have certainly helped in my opinion as they could offer treatment, but also biomechanics of foot movements (the sickled foot was a common issue)."
Selecting podiatry as a career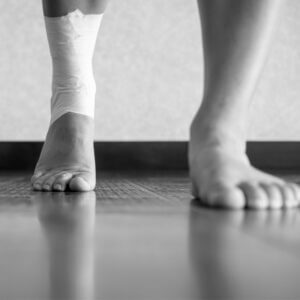 Emily focused on both coming to terms with limited patient contact, due to Covid, on her course and people and focusing on a bright future in podiatry. She says,
"I think a real dream of mine is to be able to have a space where people can come that want to rehabilitate from injury, whether that be sporting in general, but really seriously, mainly dancers. I would love to be able to help dancers, and I would also love to work with dance companies. Hopefully they can reopen one day soon.
But I think especially these real elite ballet dancers, their level… Their whole body does a lot, but their lower limb does so much, and I would love to be able to really get involved in that and help these dancers prevent injury as well as rehabilitate them, but mainly prevent them and find ways to help them have longer careers without having to worry… A lot of ballet dancers have, especially male ballet dancers, have a lot of Achilles tendon problems. I'm sure there are ways that they're working on now that will help to do that, but from what I see, where I follow a lot of them on YouTube, I follow a lot of them on social media, a lot of them have started to document their rehabilitation journeys. I know that there's no podiatrists in those rooms, they're all physios, and so I think that would be an amazing thing to achieve."
There can be no doubt that dance is a relatively untapped specialty and podiatry has yet to make a mark. For those like Emily and Nikki who are former experienced dancers we need to learn from them and others who can make this area of foot health science more attractive to podiatrists.
As with all areas of healthcare one has to start with a passion and forge ahead, creating new pathways. If you are a podiatrist or have foot problems associated with dance why not write and lets is know at ConsultingFootPain.
More stories from dancing and podiatry from ConsultingFootPain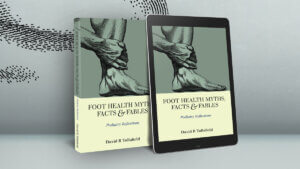 You can read more from the same author as an e-book or paperback from AMAZON books – Foot Health Myths, Facts and Fables
---
Thanks for reading 'Dance with me podiatry stories' taken from interviews with Nikki and  Emily by David R Tollafield

Published by Busypencilcase Communications Est. 2015 for ConsultingFootPain