A Virus that held the World's Attention
It seems a whole world away when we published the first podiatry Covid Clinical Diary starts with a charismatic podiatrist (Trevor Prior), working out of London's Homerton Hospital contacted me.  
Shaken but not stirred!
On January 31 2020 I recorded my own first official entry for the Coronavirus in my daily journal. The week ended with a coronavirus hitting China causing it to shut down and flights stopped. Australia had lost animals and habitats with many losing homes after the fires of the last three weeks. The effect would continue.
'85,000 infected cases across the world with a sprinkling of deaths. Some hysteria was growing and Spencer (my dentist) told me all the facemasks were now in low supply.'
A few days later, I recorded…
 'Covid -19 cases had risen to 28 deaths and now affected all the UK countries.'
My confidence in the UK's handling of the appearance of the deadly virus was still unshaken but podiatrist Ralph Graham circulated alarming news from Northern Italy. This contained a video interview between a top medical doctor in the USA and an anaesthetist in Lombardy. Ralph suggested ahead of any Government decree to stay safe and that he was self-isolating.
Stepping up to the challenge
And so I set about creating a narrative around Trevor's taped recordings we called the Covid Clinical Diaries. A podiatrist undertaking elective foot surgery and specialising in podiatric sports medicine seemed a far cry from the respiratory distress and death that was to follow. His passion, concern and resolution in wanting to do something positively shine through. Our harmony created a pact that became a blueprint commencing on April 9 for the Covid Clinical Diary. I added from my own diary;
'The death rates are now more. We know people are dying in care homes. Ultra-sensitive to the very people who they're trying to help, they in return have started to die. No one has experienced this type of outbreak save for China and Korea and it shows with death containment. … China above all is shaping the world in more than one way and today deaths peaked at 12,300.'
 I had by this time started to listen to Trevor's audio tapes and transcribed 14 short bursts. 14/4/20 Trevor's first Covid Clinical Diary entry,
'It was a strange Thursday. I noted it was now the 9th April. The day started with my neighbour's mother's funeral this morning. The hearse turned up outside his house and I could see that the whole street had turned out, well most of them had it seemed.  To pay their respects was nice. I couldn't stay as I had to rush off to do an on-line MDT lecture. Life had to go on as near as normal I reckoned.' (MDT – Multi-disciplinary team)
By mid-afternoon, Trevor started talking to Scott Reid, another podiatric surgeon he worked with, and shared feedback. Scott had undertaken Intensive Treatment Unit (ITU) upskilling two days earlier with Trevor and so started in ITU on Wednesday. They discussed logistics, washing and how to minimise the risk levels and hygiene. By the next day, Trevor was wondering what the day held. He chatted to his neighbour showing empathy for his loss and even had time to consider the man's need to have a resupply of bottled gas. As he drove to work, his feelings were surreal.
Listening to the radio, people were asking how they were going to celebrate Easter? If they're religious what did this have in store for them? How are they going to carry out Easter Egg hunts? All I could think of was that Easter was going to be spent in ITU. To be honest I have mixed feelings. My professional sense is not quite excitement but the challenge to be able to contribute at a REAL level versus, and I would be lying if I didn't say that I had a degree of worry about the risk, in part to me, but mostly my family! I had initially walked into theatres on my first day to be greeted by some familiar faces which had settled me as I drove in.
One of our scrub nurses, who knew me from my theatre sessions made sure I had a hat that I liked and another, gloves that I liked. Seeing all the people you know brings some comfort to an otherwise unfamiliar environment. I saw one anaesthetist that I worked with for years who I had a good relationship with. She's a little bit of a character in her way and thanked me for being there because we didn't need to be.
Elsewhere other podiatric surgeons were working with their departments and wondering how they might be deployed. Given that many had skills that could be used in a variety of ways I caught up with Ben and Tony two men I had worked with over the years on committees for the College of Podiatry.  Ben Yates (Great Western Hospital) explained how he and his colleague had been working with his orthopaedic team to alleviate pressure elsewhere in the hospital.
We do some trauma and are part of the ITU proning team as needed. We've done some upskilling. 
Meanwhile, Tony Wilkinson at Bassetlaw explained
I've been rotated in three days out of seven in the trauma system and keep going until elective theatres start again. In the meantime, we've had training in the ICU. We all had upskilling training in case we were needed. Up until now the hospital has been relatively quiet. Tony in particular had been an advanced life support instructor at one time. 
More podiatrists were to become engaged but this story only looks at the few who I came across in the first wave and of course, we only had one Covid Clinical Diary by the time of July's Podiatry Now.
---
 Protection
These were early days and Trevor had already expressed concern for his family's safety and yet wanted to do all he could for others. He now talks about the team and his admiration for their skill. By now the NHS had a badge of honour amongst the population who would get together on a Thursday night to clap. This was to acknowledge the selfless work being performed in hospitals across the UK. This begat the Thursday evening applause which went on until the end of May. As the ensuing months were to show, the abbreviated personal protective equipment (PPE) became at first topical, then political. Trevor's mind turned to the needs of his own safety and those around him.
So I have a couple of bin bags for my clothes. My plan is to have a shower at work, go back into my work clothes, drive home as we are fortunate to have a shower downstairs near our back door. I can come straight in where the washing machine sits close by. I can then have a second shower and I actually have a shoe steriliser so I can sterilise my shoes as well. So that's the plan later on. But now I have to get changed into scrubs and attend the briefing for the proning team. So here we go…
To most podiatrists, pronation is a common description for rolling over. By the time I had listened to the taped recordings the word proning had been drilled into my subconscious. The word proning and de-proning equated to improving the effective breathing capacity of patients. De-proning was the reverse so you could call it supination! However, this was not a term that came into play. His first day's report as he recorded
We had to de-prone three patients and prone one patient. The first one was really sick, but it went smoothly. We all had to gown up with full PPE using a systematic process to protect everyone. 
He noted the mixed teams from different disciplines. A maxilla-facial surgeon, a colorectal surgeon, a trainee GP, a medical student and a physiotherapist. Sitting down to talk over coffee allowed the team to bond and find common ground. And then Trevor found that he was in the thick of it.
Patients would be monitored carefully for their circulating level of oxygen which guided how severe their breathing had become. Damage to the brain was a major concern as it was to vital organs such as the heart and kidneys which would kill patients fast. Turning a patient onto their front or proning allowed better oxygen diffusion into the body. However, the whole process of proning was dangerous and this would become clear from Trevor's descriptions. De-proning, being the reverse, had to take place as we learn later that patients could not be left prone, lying on their front.
The last two patients were in the same theatre, that is one in theatre and other in the anaesthetic room. What struck home was when the anaesthetist said that he did not think that either of these patients would survive.
---
Florence Nightingale's influence
At the point when ITU beds were considered to be inadequate in the UK, two measures were taken before the Nightingale hospitals were constructed. Initially, wards were cleared to allow new admissions.
More ventilators were required and one way to overcome the shortage was to utilise standard systems in anaesthetic rooms and those in theatres. Patients would then be moved into a theatre and connected to a second machine. There were intensivists, specialising in high-risk management as in ITU and ICU (intensive care unit) rooms, where monitoring kept a 24-hour watchful assessment. And then there were anaesthetists who were skilled at ensuring the balance of drugs and oxygen was maintained through an airway.
---
The Endotracheal Tube
The airway tube is a routine used for anyone being maintained on oxygen. The tube is passed down the trachea airway pipe into the lungs and then maintained by drugs for comfort.  Assisting the air into the lungs using a special plastic pipe, known as an endotracheal tube, which had to be critically placed and should not leak. On sick patients, the whole process would be a good deal more challenging.
Patients who could breathe reasonably well were kept on regular wards and monitored but were also fully awake. This meant their care was less intensive. In order to prone any patient, a team of at least five people could be required including an anaesthetist. The process had to be undertaken with fluid precision because any accident could cause a lack of oxygen if the tube came out. This would also apply to the accidental movement of leads and other tubes used to deliver drugs. In addition, any poor proning technique when moving a patient could injure members of the team. Back injuries have always been common amongst nursing staff. Trevor stared at the patient in front of him…
Patients seemed to be connected to many different leads and lines. For instance, a central line, an arterial line catheter as well as one connected to the bladder for urinary output measurement. The fascinating bit was looking at the monitoring equipment and their recording of the oxygen levels or saturated oxygen.  Although the last person to be proned showed her 'sats', as we called the saturation of oxygen, in the blood at 90% when we turned her. The anaesthetist however was not happy as the ventilation line on the screen was flat, which meant it was a false reading. So quite a bit had to be done to get her sats to appropriate levels and the thing that almost swung it was sitting her up to about 30 degrees.  It appeared that proning or de-proning was quite stressful for patients and because the oxygen levels drop quickly, this made time a critical battle for the anaesthetists. Hats off to them and the ICU nurses. They're there for 12 hours in PPE. It's some going. They really do know their stuff. It's incredible what they're doing.
Trevor's admiration was never far from his lucid descriptions of events as he started to become familiar first with the method and the teamwork and started to stretch his own understanding of the medicine and physiology around respiration. He signed off –
My overriding thoughts for the day were at last a sense of satisfaction of being able to contribute; bizarrely almost a sense of elation as being part of the team.
His energy and enthusiasm to get stuck in become infectious from his recordings that have been turned into this account of his experience.
---
Elective care to intensive care
It seems unusual for a podiatrist to find themselves in this position, but Trevor, like many podiatrists who hold extended training and perform surgery, knows what it is like to gown and glove for several hours at a time.
Working with a team of nurses, an anaesthetist and operative department practitioners (ODPs) and support staff, is second nature to anyone working in theatres, and this is one of Trevor's strengths. The difference for podiatrists is that their activities are on patients who are not expected to die, and as such, their role contributes to elective not intensive care. Trevor's team colleague, Scott Reid and he were gratefully received by staff. Curiously their help was more respected knowing that not all medical staff were so willing to come forward.
A growing fear over safety percolated through many healthcare establishments.  Not so far away my own daughter, an ITU sister and someone used to dealing with the high end of risk started their battle to help patients with Covid-19, putting her normal work with heart and lung transplants on hold. As a father and retired clinical podiatrist, lockdown prevented me from rejoining the workforce. Naturally, both Jill and I had concerns about our own daughter's wellbeing in the weeks that followed. Doubtless Trevor's family would feel similarly about his own efforts. Readying himself for the third day of duty he sneaked some chocolates in for the staff and some portable music and recorded the following;
Leading a Team
Apparently, I'm going to be leading today. We met as a team and shared some of the issues the previous team had experienced. Finding solutions to problems was what the strong mixed skilled team were able to do. Talking about issues together makes it slick. They're going to put a bell on the wall so when someone successfully recovers they can ring and alert everyone.
 In a more sombre manner he added;
I suspect the bell won't ring often given the number in there!
Success comes in small measures
The nation saw the positive signs on television as a corridor of staff, spaced equally at the requisite distance for safety, clapping for each successful recovery. What the nation was also to notice was that some of those that recovered were themselves medical personnel.  By 22nd April staff deaths were recorded in the UK as reaching 119.  Nursing staff tipped ahead of care workers and doctors. As far as survival from severe respiratory Covid disease Trevor's sombre thoughts were not misplaced. Even with intubation, the chance of survival was poor and the success seemed related to some of the factors mentioned earlier such as gender and ethnicity as much as compromised health and immunity defence.
PPE Side Effects
I was desperately trying to hydrate due to the fact that I had not drunk enough fluids of the right kind! Another patient was waiting to be proned, she had many of the risk factors others presented with, and this was what made the medical community aware that they were battling specific criteria.
 So we all go there in full PPE. At this point, I had not realised the difference between an ITU consultant and a general anaesthetist. This became obvious because of the complexity of the machine that anaesthetists were confronted with. Much of the difference between different ventilation machines was down to fine-tuning and recording of respiration values.
We had to lay this woman flat and her oxygen sats dropped to around 70%. The alarm started going off as her ventilation rate went down to 4. (We normally have a respiration rate of 12-15/minute) So we would have to sit her back up again.  The oxygen was adjusted to 100% together with the pressure that the oxygen was pumped in. Even then she was struggling. The nurse listened to the lungs and announced it was consolidated. This means it could be filled with liquid rather than the normal air. She was then given suction which means a tube is fed down the bronchi to clear any fluid. A new patient was then brought in with one of the consultants. Within seconds he was calling for the crash trolley and it all kicked off. They then infused the patient with adrenaline. Like masses of the stuff. A femoral line was inserted. This seemed to happen in nano-seconds, but blood was spurting everywhere. He then moves up (to the neck) so he can get a central line in. At the same time, ultrasound is being used to scan the heart. This is all going on while the general anaesthetist is waiting for advice from the ITU consultant. 
We must have stood there for 45 minutes. I can tell you I thought I was going to pass out I was so hot! Seeing a bin, I tried to take the weight off my body willing myself not to fall down. It passed through my mind – how's everyone feeling? The anaesthetist must be sweating buckets. You know what it's like when you're in a theatre and you're working away and concentrating on trying to do something intricate. 
Back to the first lady who everyone is waiting for the ITU consultant's advice, a discussion arises as to how to bypass the delay in the proning process. They keep the monitoring equipment on until the last moment and then turn the patient. Having had this discussion, we turn her and her oxygen saturation rate improves because of the advantage that it gives the lungs. I've never been so glad to come out and take off the kit. I was so hot. I then spoke to Tamzin, the colorectal surgeon to compare notes. She saw me sit on the bin so she told me that she too found something to lean on as she felt faint. Clearly, I was not the only one feeling that way!
Trevor is describing the effects of standing for a long period when the calf is no longer moving blood around the body. The heat from lights, the presence of overcrowded bodies in a small space, then the excitement and stress which releases adrenaline, masks covering the face and gloves that become sweaty, all impede the loss of heat which intensifies. Operations that run into hours whilst gowned, masked and gloved can tax any surgeon and it is not unusual to lose body water in sweat during such periods which causes dehydration. 
The reports in the news were completely accurate and the indentations and red patches left by PPE masks were to become a regular feature of my daughter – a sister at the time in ICU taken from her WhatsApp posts to her family.
---
Published by Busypencilcase Reflective Communications Est. 2015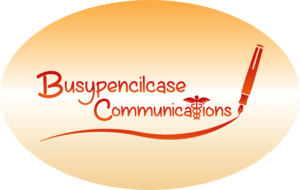 Thank you for reading 'Covid Clinical Diary'  Edited by David Tollafield from the diary of Trevor Prior

Why not read  – Podiatry as a career choice?