Podiatry in the independent sector
A Career Series in podiatry

– 
Debbie Delves
In this article, Debbie takes us through how she developed from a clinical podiatrist into a business manager. Her practice was originally set up in 1948 and she has turned it into a modern podiatric setting and explains some of the modern methods she has adopted. She also features her sub-specialist interest in epidermolysis bullosa and Charcot-Marie-Tooth disease in feet.
General practice and management
We often think of a career in management as resting within the NHS, maybe we also consider that management to be a designated career progression. She demonstrates how skills can be be mixed and matched.
Looking back
Debbie has been qualified now over 30 years ago from Eastbourne now part of Brighton University. She originally wanted to emulate the American TV pathologist 'Quincy MD'. She had gone to what was an all-girls Grammar school where the school pushed the students into medicine or law.
"I was looking for something that was flexible, that fed my need to do something medical. I spent some time with a podiatrist one summer after exams and just found it really, really interesting. I remember him showing me a textbook and saying, if you can cope with the pictures in this textbook, then you'll be alright. And I think that that was it. Nobody realises the breadth of what we do as a profession until you really get into it. Unless you're unfortunate enough to suffer some of the diseases that we see, you don't imagine some of the stuff that can happen to feet." 
When Debbie first qualified there were no NHS jobs available at the time compared to today where we now have a shortage in the NHS. Attracted by a woman who was selling her visiting practice she launched straight into a private visiting practice. The first thing she makes clear is this is a fairly isolated part of the job, but she was able to work as a locum for the local Health Authority. This provided a balanced but, in the end, she burnt out because she was trying to give the NHS patients her all.
"In those days' things were different in the NHS. You saw everyone, who was over 65 for men or over 60 for women if they were pregnant, diabetic or children and it was a huge raft of people that came into the NHS. And the waiting lists were huge. I used to see people before work, after work, in my lunchtime, NHS patients, just to try and deal with the caseload and their requirements and I burnt out. I thought if I carry on like this, I need to do something different."
She started looking for an established practice to buy into and found Dulwich where she still practises. As a mother to young children, Debbie had to factor flexibility into the equation– 'being flexible', but not just being flexible around working hours important as a woman or a mother – but the flexibility to choose what direction she wanted to take her career and development toward
"I think that's quite exciting. When I first took over in Dulwich, we were engaged in routine practice, the type of activity that podiatry was once described as such as people couldn't cut their toenails and wanted a bit of hard skin taken off. What we do now is a lot more advanced, and we're forever trying to evolve and make sure that what we're doing is working at the top of our game. We're actually dealing with the cause of the symptom rather than just the symptoms."
Juggling roles
Her Dulwich practice was established in 1948, and she was the third owner. When taking the business over 25 years ago, she was eight months pregnant. Her role was made manageable as associate practitioners were working within the practice. She reflects that she went from somebody who ran a small domiciliary practice, to someone who was managing a team. She points out that her role, career and development just evolved. It evolved around when people left, and she increased her hours, and she would work around her baby daughter. She just shifted around how things went.
Today her Dulwich practice is well established and morphed into the modern set-up she has today. Debbie is direct when asked what the difference between working in the independent sector and the NHS – "You'll earn more money," she says, without a note of being cavalier
"That's an important thing, and that, I think, for the youngsters is actually quite a big driver. You have the potential to earn more money, and you have the potential to earn quite a lot of money in private practice if you do it right.  And I do think that's a driver, and I don't think we should be embarrassed about that."
Developing a modern practice
While the modern-day view may become polarised toward different objectives, she is aware that private practice, using the older traditional terminology, as opposed to independent practice, is often glossed over at university. She is aware that the NHS has changed, and the type of roles today have become more focused on musculoskeletal services triaging patients to other consultants. She is also aware of the role that podiatric surgery plays. After all, she holds a Master's degree in podiatric surgery herself. Far from letting the grass grow under her own feet, she has kept up to date and constantly studies.
Treatment plans should structure patient management so that diagnosis focuses on symptoms rather than pure palliation as practised in the past. The patient journey is important rather than seeing cyclical repetition. Foot health education and advice is important and requires good communication skills. There is an importance in following the patient and making sure they understand what the underlying pathology involves.  The use of gait analysis and analysing movement is now standard in podiatry. Soft tissue injuries require programmes of rehabilitation without needing numerous practitioners. Debbie uses a physiotherapist for some of her patients and invests in high tech equipment and is enabled to provide injection therapy.
"We were one of the first people to put low level laser in the practice and we've taken on a shockwave machine and a computerised gait analysis system." She hopes to purchase a diagnostic ultrasound following taking a training course. "Ultrasound is really going to be important for our musculoskeletal work. We are offering advanced practice modalities."
Wounds and sub-specialisation
Wound management is important and keeps those people alive, she points out bluntly that there is no other way of putting this feature of her work. There are some really vulnerable people whose skin just peels away. This is where core podiatry skills are invaluable, and Debbie is attracted to rare conditions such as Epidermolysis bullosa and Charcot-Marie-Tooth.
"This is the stuff that keeps these people safe and alive, is our ability to manage delicate tissue in a gentle way that doesn't cause more trauma or more wounds. We understand skin anatomy and identify different types of the genetic condition epidermolysis bullosa (EB)."
The detachment of the skin happens at different levels, depending on the type of EB. A blister could end up peeling back from half their foot for example without highly skilled methods. Debbie is also a Trustee of Charcot Marie Tooth disease (CMT) UK, a rare neurological condition that affects the feet.
"You just need to be aware that these things are there, and they exist, and that they may walk in your door, and you need to know what your red flags are for recognising them."
Podiatry is now linked to DEBRA.org.uk  (Dystrophic Epidermolysis Bullosa Research Association).  This is the charity that helps people with EB and has created podiatric clinical guidelines in a 65-page document on how a podiatrist can help people.
Business qualifications
It's difficult to combine a business degree with a podiatry degree which is really an advantage – she points out. The stuff that she knows now as a business owner would contribute toward an MBA, but it is not possible to have sufficient knowledge about the business within the university degree and students should recognise the need to acquire skills. They can do this by working alongside an existing business or taking qualifications, although this is often only practicable if you work within the NHS or are funded toward this type of skill set.
Many people have good technical skills, and while they understand the technicalities of their profession it does not translate into running a business. Debbie  emphasises that running the business is a full-time job and she does not have the time for clinical work.
Networking and employment
Debbie has always been involved with the local branch. She sat on the Committee of Private Practice for the professional body (now the Royal College of Podiatry).  Mixing with similar minded people is important to share ideas. It made her look at her practice development differently. She now runs her practice with employed podiatrists. This has enabled her to do engage in other roles such as being a past Chairman of the College but still be able to keep the practice going. Developing a team requires decisions and wearing different hats. Associates are self-employed and in effect, they are the consultants that come in and use your space, and so your ability to direct and gel and take forward a team is more complicated as the employment law is different to employed podiatrists. Debbie has three podiatrists at the moment, with one specialising in MSK, while another one has a special interest in dermatology. Allowing her team to develop is really liberating.
"I've got a young team who are really into IT and know what they're doing. And I can say, let's have a couple of hours a month where you work on helping me with the blog,' for example, I can have them doing all sorts of things that helps the business. It isn't just about a conveyor belt of patients."
managers must invest in their employees
Debbie believes that she can engage her employees to learn and develop together. She has just taken on a new graduate and he's loving it. "He's learning stuff, he's thriving, we've got time to take lots of time looking at case histories, and one to ones. I've just made him full time or will be post-COVID, full time -not because we have that demand in patients, but because it will give us time to really develop." Her spicy motto is, either 'mentor them or I mop up after them!' and she'd rather spend more time mentoring them, and she has created the time.
---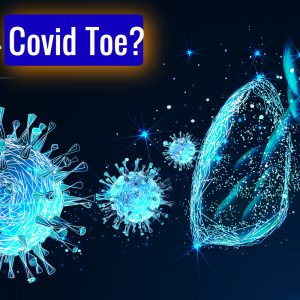 You can also read Debbie's article on Covid toe during the first stages of the pandemic.
also
Podiatry as a career choice?
Podiatry as an Inspiring Career
Resources for a career in podiatry
---

Thanks for reading "Clinical Podiatrist to Business Manager" with Debbie Delves 
Published by Busypencilcase Communications. Est. 2015 for ConsultingFootPain