Working in the NHS with a research background
A Career Series in Podiatry

– Lisa Farndon 
It is curious that Dr Lisa Farndon says "I didn't want to be a nurse because I just thought that was hard work and I wasn't bright enough to be a doctor…" If we believe being bright is the only pathway to success then Lisa along with so many of our podiatrists have put that 'bogie man' to bed. Having come across an article at the time of writing called 'Imposter Syndrome', it is easy for so many to believe they are not worthy of success. The truth in fact lies in many school students not finding their niche until later on, failing to be guided in the right direction or having not found the right motivation to work in a smarter way early.
Lisa did not get much help at school to guide her career decision. She found podiatry within the group known as Allied Health Professionals (AHP) and spent a day first with a private practitioner then an NHS podiatrist – the decision was made and she went to study at the newly opened Eastbourne school of podiatry in 1984.
Her first appointment was as a Senior II Podiatrist in North Nottinghamshire where she worked for 10 years. Within this period she worked at a Diabetes Centre at Kings Mill Hospital in Mansfield. She remained there until she took up an appointment in Sheffield. At this time podiatrists had taken the diploma qualification as no degree existed and so she went back Eastbourne (now part of Brighton University) to undertake a two year part time degree to gain a BSc(hons) in Podiatric Medicine.
It was clear that Lisa was steering towards academia because she then took a Master's degree at Derby University in Health Studies. It may appear strange but 25 years ago podiatry was a linear profession with few side roots and Lisa, like many had been thinking of  moving out of podiatry.  Selecting a general Masters' degree gave her flexibility but by now she had been inspired towards a research career
Evidence based practice
Evidence based practice or medicine (EBM), while not new, was very novel in podiatry. Much taught was gained from lecturer to student passing on material in a regurgitated fashion. I guess we could call it 'Chinese whispers,' the party game that starts with a message given at one end of a circle and slowly becomes altered as the interpretation widens! Of course this anecdote provides partial evidence because many old methods in fact work, it just happens that we don't know why this is so in some cases. The use of padding for example was a staple part of clinical skills, this has been replaced in many ways by other methods to help maintain foot function.
Reformation
The advent of podiatrists entering the research arena has become ever important and slowly gained momentum with many wanting to reform the ideas behind podiatric medical education.
Lisa started off small with "little service evaluation type projects, that didn't need ethical approval." It is easy to say this now because any human study requires projects to be submitted to a committee to prevent abuse or harm in a way that uses the correct process or protocol for genuine human benefit. Much change came from the period 1939-1945 after the world was made aware of how the Nazi regime experimented on prisoners against their will. The idea that consent had been given was off the charts during this dark period in our human history and gave way to the Helsinki Declaration in 1964 following on from the Nuremberg declaration in 1947.  
Mentors and support
Consultant diabetologist,  Dr Keith Sands, who worked alongside Lisa in the Diabetes Centre became her mentor. The ethos behind changing one's professional standing comes from not only being able to speak the language of medicine, which all podiatrists can do, but to have sufficient ability at interpreting research papers. In this regard there is a language that sets it apart. A project might fail because the design is faulty. Today all podiatrists take a degree at Bachelor level that provides the basis for research and an understanding behind interpreting research papers; the language used, the method of writing, the presentation of results and avoiding common errors.
"When I was doing my Masters I had to read so many research papers about the diabetic foot, this led to lots of debates with Dr Sands and other colleagues in the multi-disciplinary foot care team about all the reasons why we needed to do it one way rather than the other."
In time she found that her medical colleagues responded well to her own input as she gained more confidence when  working alongside consultants and registrars. That imposter syndrome alluded to earlier can soon be dispelled when you realise you have something valuable to contribute. Lisa believes on reflection that you can be a big fish in a small pond in podiatry compared to the larger professional groups like nurses and physiotherapists. "There's loads of scope if you want to do interesting research in this profession."
Overseas experience
During my time spent interviewing podiatrists I have been surprised how often the leprosy experience comes up. Lisa informed me she had travelled to Delhi, and had worked in The Village of Hope which is a community for people with leprosy . This is such an understated arena for experience. The work and contribution podiatrists can make to a team provides so many options later in one's career. Lisa buddies up with a friend who goes out to India and she plans to return when travel plans allow. Plans are emerging to consider introducing students to the leprosy experience late in their training. Of course all of this is at an early stage in the planning.
"Lisa's friend is a private practitioner, when she goes she takes the hit financially because she doesn't earn any money but she's so passionate about it. It was very humbling, so we're going to try and drum up some more support by a rolling programme of podiatrists that go out every year. That's the plan."
I pointed out that podiatrists from the USA and Australia also engage in the experience in Malaysia (see Ben Yates, Ali Clarke- Morris and Martin Fox). Podiatrists can give back to a community and gain so much from going overseas. Lisa worked with Professor Wesley Vernon  for many years in Sheffield, and the philosophy he shared was to be inclusive, help all people and be part of the team.
"So even though we're autonomous as a profession, I think we were quite integrated. We're thought of quite highly and maybe a lot of that's to do with Wes and how he was high up in the profession and everyone knew who he was. I think we definitely were treated better than we used to years ago, especially by doctors, and when we're in clinics alongside the doctors, they are very respectful of what we can do."
Some of the integration can be enhanced by engaging in educating and training other medical healthcare workers.
"We provide diabetic foot training for practice nurses and district nurses and the odd GP comes and attends that, and they're always stunned, to find how much we do and what we know. And they really enjoy it because they don't know a lot about it in general practice, only the basics."

Research as a clinical academic 
Lisa described how a previous manager – who was a podiatrist, didn't see the importance of research. She had to self-fund her Master's degree. "You couldn't really apply for money then, and also, I asked for study leave and they negotiated half that as annual leave for two years. It wasn't seen as an important role, but I was determined I was going to do it anyway."
Having a mentor is important and this is why Wesley Vernon's name comes up. Wesley knew how important it was to combine clinical academic graduates in podiatry.
"I was given all the support and the time I needed and they financed my PhD. This was before the National Institute for Health Research (NIHR) clinical pathways was established. So it was very innovative, which is typical Wesley." The National Institute for Health Research have a pathway for clinical academics. "You can do internship, a bridging scheme, then you can then do a Masters, then PhD and then a Post Doctorate as well. They're hard to get, but if you get them it will fund your training and buy you time out of your clinical NHS roles."
PhD Process
Lisa points out that you need to work clinically for a while and see the area that you're interested in.  Selecting  something that you love is important because the PhD process is a long haul. Podiatrists should start small where they have not undertaken research before. Sheffield Teaching Hospitals NHS Foundation Trust has a  5 day Evidence Based Practice Course which is available to all clinical staff and gives an insight into research
"A small project can spark people's interest in research. And then we try and get clinicians involved in portfolio studies, so if someone's got a research grant…" She reals off a few of the ideas that have contributed toward delivering research interventions. She adds, "Obviously not everyone needs to be a researcher. It's quite good to have one or two in a service."
Defining podiatry
Dr Lisa Farndon is perhaps best known for her work on evidence based practice where she has taken data from clinical podiatry to look at what drives the profession, if not what defines the case load. While one of her PhD supervisors, Dr Julia Potter came up with the term 'Core Podiatry', Lisa  built on this, by re-defining it as part of her PhD project. Of course traditional podiatry is still practised despite many innovative options being available.
"We used to say we were maintaining people's foot health and as part of my PhD we called it sustaining foot health because we were stopping people from deteriorating."
Much of the NHS has changed since the days when podiatry was delivered to key groups in the population. Commissioners are administrative people who decide what is worth investing in and what is not. Podiatry has become one such axis around cuts and trimming back service provision. Being treated in the NHS arises more and more only if you're high risk. Much of the core podiatry is delivered now in the independent (private) sector.
Lisa talks about a common problem experienced by many – the intractable plantar keratoma (IPK). Many consider this to be a corn but it manifests in different guises. Her research led her to consider the current approaches and with a grant of £250,000 she undertook a randomised control trial comparing corn plasters to 'usual care' for  the treatment of corns.
"We had one guy in the clinic, in his 30s, and he had a really nasty IPK for years, and after treatment, for the first time he'd been able to race his son down the road and run and not have his feet hurting.  The condition had affected his job as he was in pain all the time and this had affected his quality of life."
Conditions that may appear simple and basic to some impact many in ways that don't just affect the foot but the whole body and their social and occupational life. Over the years and certainly since I qualified, a whole range of podiatrists have started to change the way podiatry is delivered and in many cases. As Lisa has pointed out, podiatry can impress others in the way we can contribute to the overall – holistic care of our patients.
Podiatry may have well be understated in the eyes of many, but for patients, their mobility and daily life has been improved significantly. However, no-one can doubt that research impacts all professions.
---
More about research and careers in podiatry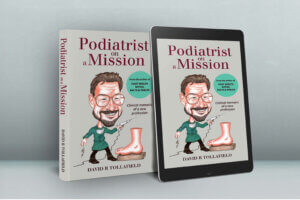 Thanks for reading 'Clinical Academic Careers in Podiatry' with Lisa Farndon
Published by Busypencilcase Communications. Est. 2015 for ConsultingFootPain