The Domestic Appliance Engineer 
A career series in podiatry –

Mike McColgan MSK Podiatrist
Who says you can't change later in life? Mike McColgan set out to prove this untrue and that it is possible to change directions and fulfil a dream, a dream based around wanting to join a profession and be able to provide for his family without the reliance on an employer. 
Mike started as a mechanical engineer, making domestic appliances in Warrington, and playing a lot of squash. Disillusioned with engineering in the 1980s he took to podiatry after receiving successful treatment for an ingrowing toenail. He went back to night school, completed his A-Levels, and then got into Salford University in 1989. Having spent 10 years in engineering, the subject of biomechanics came to him easily.
"I could understand exactly what we were trying to do in engineering terms. It was difficult for many. I remember looking around at some of the blank faces in college and thinking well, I know it's conceptual, but surely you get this? Many people were just scratching their heads and saying, no, I don't get this. My only problem was when people said, well, we need to give you five degrees when referring to a rearfoot medial post. Well, exactly five degrees? I mean, every degree has 60 minutes, and every minute's has 60 seconds in it. And I was used to high tolerance work. So this style of biomechanics was not that accurate."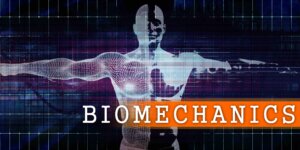 Much of the core work involved with modern podiatry is based around the skeletal features and movement
Deciding for the future
He now knew where his career was going and was surprised one day when a lecturer said that he would refer a patient with a bunion deformity to orthopaedics or a surgically qualified colleague. It was then he realised podiatry included surgical practice.
Although focused on biomechanics, the science of human movement and the study of forces acting on the human musculoskeletal frame, he now considered surgery at the post-graduate level. However, this was "a big mountain to climb" as a mature student. As he had already invested in catching up academically, he had to appraise the rigour required for what would be a relatively long process. So he turned away from the surgical route as a career. Today he has a private practice and runs his own business and became involved with a group marketing a new protective pad for pressure management. The idea of becoming engaged with the industrial side of healthcare appealed.
He was involved with a computer system (CAD-CAM) and set out to reduce diabetic foot complications and the high amputation rate.
 "We can measure pressure, but not shear forces clinically. Lenny was a boxer and kept getting blisters on his lead foot. This was the one he was pushing off with his right big toe. No matter what he tried, that blister would cause havoc. He tried a few of the usual things, Compeed, plasters and double socks and the whole gambit and things. Not being beaten, Lenny came up with an insole, a shop-bought insole template and his blister incidents stopped. He knew he was onto something."
Because Mike was working on the diabetes side of podiatry together, they wondered if they could take the idea into a new arena. And this is how he became involved with Pellitec Ltd. Lenny and he worked on developing the pad, having it manufactured, and developing the technology into an insole to help diabetic problems.
The world of MSK podiatry
Mike points out that the type of management associated with his musculoskeletal (MSK) work covered everything ranging from general podiatry to post road traffic accidents to rheumatoid disease. Referrals would come in from physiotherapists and orthopaedic surgeons, offering various problems with different challenges. For Mike, this was a great exercise in detective work. He adds,
"Getting to the bottom of the case and find out what's causing the problem. And you can make their lives infinitely better because of that. And I believe in what we do." He points out that it is essential to do the right thing and equally important to get it right. 
"We put these judiciously placed pieces of plastic into people's shoes and they work. It's like witchcraft to people. They can go back to their way of life improved. We use old fashioned Newtonian physics and apply it to the way people move. It's an amazing thing you can see things happen once you understand how things click together."
Mike recalls a man with Paget's disease who could barely walk, let alone stand up straight.
"The assessment identified reduced ankle dorsiflexion. But, he couldn't believe the improvement with a couple of heel raises. He just walked out after saying that he could not believe how simple the management had been."
In his early days, he remembers using cardboard with lipstick to mark key sites that went on to make up insoles. Today the process uses a scanner to create an image using software that utilises pneumatic pins around the foot. But, even then, technology had moved on.
"By creating a three-dimensional image on a screen, you can prescribe anything, add anything, and remove anything. It has an intuitive way of working"
Human input and interpretation are still required because the equipment is not without limitations, such as offloading high-pressure areas likely to cause ulcers. However, newer systems are more photographic, scans use a laser rather than raising pins and they create an actual time image on a computer screen that you can see clearly where these high-pressure areas are. As a result, you can work a lot more accurately around.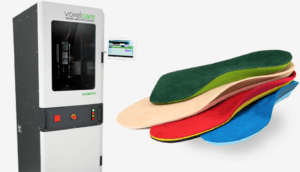 "The prescriptions are saved to a Cloud as tiny accessible files. The machine now – the one that we're getting rid of we thought was amazing. We thought it was Star Trek, it was able to mill out a complete insole in seven minutes, and it required minimal post-production grinding and cleaning up. Perhaps it needed a cover. That was it. This new machine will mill four sets of insoles in 50 minutes or less. It'll just mill out with more efficiency than the old machine would only mill the top of the insole. This new machine mills both sides. It's incredible and very clean. The mill does not create dust like a grinder. It's a cut, so it falls rather than stays in the air. So from a health and safety perspective, that's something else that's quite new."
This work is done with the NHS sector and can be sold as contract work. So, for example, GPs can purchase the first pair of orthoses and the patients buy subsequent pairs to save the NHS money. A modular kit system is used in the independent sector called an Interpod, which comes in three different arch heights offering four, six and eight degrees of tilting (posting).
Mike recalls a conversation with an orthopaedic surgeon who wanted an orthosis with a  certain degree of posting. Unfortunately, the surgeon overcorrected his own foot position, so Mike pointed out some salient facts.
"What are you trying to do here? Because you're going to walk on different terrain,  your foot is not going to be held in that position as you want it forever. It's going to have to move constantly. When you ask for a blood test, you will get the result, and next to it, you'll get the range. If you're within that range, things are okay. You might be at the high end, or you might be in the low end. All I'm trying to do is hold you within that range so your body can deal with that. That tolerance that your body can deal with that's fine. That's all you need to do. I think being over-prescriptive caused his  problems."
Mike reflects how much podiatry has had to adapt to modern computerised systems with plastic technology and systems developed to remove some of the human activities. As he points out, dust is a human health problem. As students, we relied on dust extraction. One is thankful that podiatrists can avoid some of the older techniques in today's modern climate. But, as with most matters in medicine, nothing stands still.
---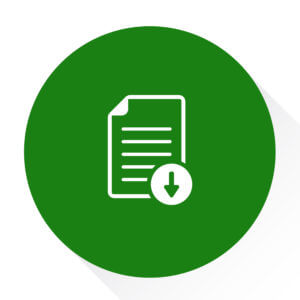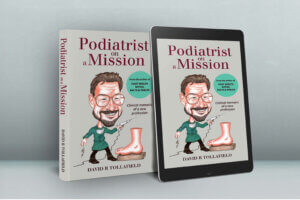 Thanks for reading "A Mature Podiatry Student's Journey" with Mike McColgan 
Published by Busypencilcase Communications. Est. 2015 for ConsultingFootPain