'What can I do to help myself?'
Welcome to three self-help films from ConsultingFootPain' and my recent downloadable self-help films now published on YouTube this April 2019.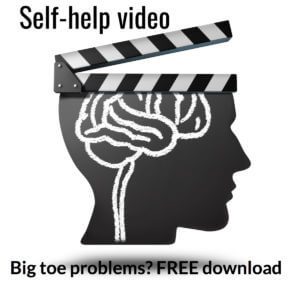 BONUS – PREVIEW
The films go alongside my new book launched this May 2019, Bunion (Hallux Valgus) Behind the Scenes. My Patient Journeys, and are free to view. There are 2 other films that feature in the book. One drawing fluid from a ganglion, the other how to carry out a safety check before theatre. 
---

 4: WHAT CAN I DO TO HELP MYSELF?
UNDERSTANDING THE CONCEPT OF TREATMENT Hallux valgus (HV) and the bunion are part of a group of conditions traditionally treated by orthopaedic specialists. HV now comes under the broader label of musculoskeletal deformity (MSK deformity). Dictionaries have previously recorded the definition of podiatrist as someone who treated bunions, although in the UK less than 5% of podiatrists undertake surgery. If treatment means alleviating pain, the general dictionary definition is correct, but full correction of the deformity falls outside conservative care.
Aims and Actions Treatment may alleviate pain, slow down the deformity, prevent the side effects of deformity and pressure, or cure the problem by straightening the toe. It may seem axiomatic that cure equates to straightness, but this is not always the case as the end result may still retain a painful joint despite appearing normal.
To read more, you can download the e-book from Amazon, published by Busypencilcase Communications Ltd.
---
My new book features three films
Video; duration 3-6 minutes

British English language and text

Supporting titles and guides linked to website consultingfootpain.co.uk

Bunion (Hallux valgus) dressing pad. Also, see my linked article posted in May 2019 for additional written guidance.

Mobilisation and manipulation of a stiff toe

Resting a painful big toe joint, retaining mobility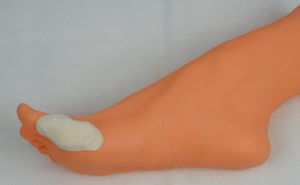 Bunion pad to protect the skin and joint is covered. Duration 6.15 mins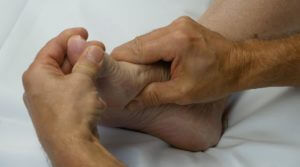 Mobilising the first toe joint is demonstrated in order to maintain flexibility. Duration 3.04 mins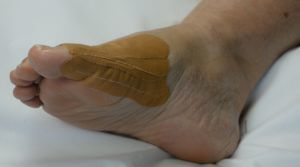 A painful joint needs resting. The 'Fan Strap is a good way to allow mobility and shoe fit while resting the joint.  Duration 5.20 mins
---
Click on other links related to the subject of bunions on consultingfootpain
The Bunion hallux valgus deformity Number One
Stiff Big Toe Joint Pain Number Three
Bunion surgery the best age?
---
Other helpful films featured in the book
Aspiration of fluid from a ganglion. The jelly-like fluid is drawn off from a wrist in this 1.37 min film and is similar to the procedure for a bunion swelling where the bone is not involved. A film by Mike Hayton. (2012) click here
What is involved with a pre-surgical safety check when admitted to the operating theatre. This is often known as a WHO check. Film Practitioner 12. 3.41 min (2019) click here
Thanks for reading 'What can I do to help myself?' written by David Tollafield and published by Busypencilcase Communications Ltd for ConsultingFootPain. Updated 29th May 2019