Report Reader Survey
Thanks for reading the Reflective Podiatric Practice Survey
In 2018 I launched RPP for colleagues as a way to present different materials. This has been successful but as with any project of this nature there is competition from many sites and social media. Uptake can vary depending upon whether a subject is attractive to the reader and that is understandable. For those who use the site regularly I try to find ways to involve podiatrists as beta-readers or invite them to write articles. Podiatry as a profession in the UK is still emerging as a small group who carry considerable expertise and it is my personal philosophy to ensure the public and any other reader recognised the value offered. As we emerge out of the recent events that have taken us by storm, I hope RPP continues to grow. In the meantime it is time for me to reflect and as promised I have published the results of the survey and will act accordingly. 
In April, a survey was conducted as to how best to deliver the Reflective Podiatric Practice Newsfeed. The respondent numbers were small (n=20) but the group clearly were regular readers and willing to provide feedback. The ideal target was 15-20% and so reaching <4% was disappointing. Nonetheless as with any survey this offers something to build upon
MSK sports based podiatry accounted for the greater group and domiciliary the least. High risk and rheumatology also reflected higher responses. All found value from the RPP newsfeed with no-one scoring below 6 (0-10). Delivery of the newsfeed suggested 50% wanted this monthly, 20% bi-monthly and 6% weekly. Hyperlinks and downloading were favoured by most with only 8% wishing to have a MailChimp newsletter alone. 
---
Feedback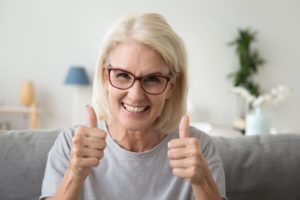 The value of the feedback achieved by open questions was important. All provided similar themed feedback. It is recognised that there can be too much material to digest. While the Covid-19 lockdown seemed a good time publish, the internet material was overwhelming for us all. It is fair to say everyone jumped onto the Covid-19 train and 'stay safe, protect the NHS, save lives' almost diminished in importance due to repetition outside the Government agencies. 
Top response – time to catch up was important and so monthly drops work best. people need time to read and those organised will put material to one side. Many commented on the importance for CPD.
---
Conclusions
RPP does appear to be valued by readers and more readers than not do use the newsfeed with majority hitting the site at least once every several months. The material naturally varies between readers and some may have to wait to establish an article that is of value or specific to their need.
---
Actions 
The delivery of information will need to change but it can do so taking into consideration the whole readership, which has tripled since last year. The value of being a RPP reader means any book deals can still be delivered and information about the latest articles highlighted with the articles being directly accessible onto smart devices rather than downloads. This means that the full scientific type article will no longer be considered a primary feature of RPP but sub-articles and comments delivered through hyperlinks. Facebook and LinkedIn rank as top sites to draw podiatry colleagues in under different FB groups such as MSc, MSK, Podiatry branches. Regular articles will continue through this medium. 
The use of podcasts and video logs are still under consideration and will depend on additional feedback. The website and CLINICIAN PORTAL will still carry the main information that is accessible to the public but specific information can be maintained discretely focused on to the RPP reader alone where necessary.
---
Projects and 

publications

 
A new project abbreviated to 'Landscape' is now underway. Interviews were carried out with senior colleagues to promote podiatry as a career. More about this later in the year.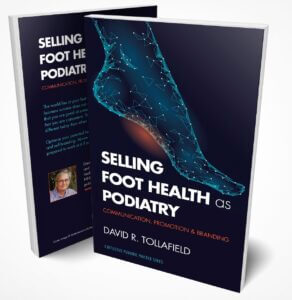 For those who attended the College of Podiatry 2019 conference may recognise this leaflet below and How do we package Podiatry? 
My latest book Selling Foot Health as Podiatry will be launched this June as part of business management, promotion of podiatry and branding. The material will be presented as an e-book and paperback through Amazon KDP. Become a Hi-Star and get a special rate. Make sure you sign-up through the landing page.
'Selling' is the first of my series on RPP derived from five articles published between the end of last year and early 2020.
---
 Thank you for reading this article by David Tollafield. May 2020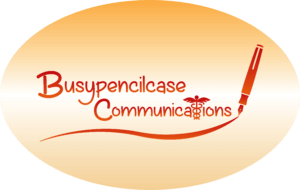 Published under Busypencilcase Communications Ltd Est. 2015