Welcome to Patient feedback on bunions with surgery bias. 
Testimonials are helpful as long as they are truthful and not contrived. Each of these comes from genuine patients. ConsultingFootPain is published by Busypencilcase Communications Ltd written by a podiatrist with forty-years experience in the clinical field.
The purpose of this article is to highlight that while we aim to avoid surgery, we need to operate sometimes and for the most part there is little to fear and the end result can be very rewarding. It is important to appreciate that there is no guarantee from surgery and bunions can come back (7-15% various sources) and some patients can find they have enduring pain.
The College of Podiatry produces quality evidence on all foot surgery through PASCOM-10 database where annual reports are published. The material published on this website is free however I have published a book covering material beyond these articles now available on Amazon you may wish to consider. This places a huge amount of information in one place.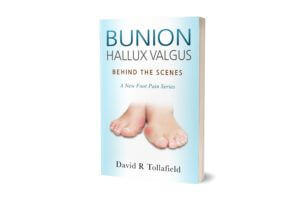 ---
Pain, stiffness and bumpy ridges!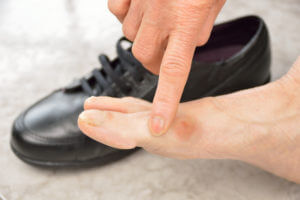 The big toe is important, a bit like the steering wheel of your car. Movement of this small joint works with other joints higher up the body so that the foot is governed by the big toe and requires just the right amount of movement. When the joint is less effective at moving or pain arises, we twist outwards – causing a 'duck foot'.
The big problem comes when the joint swells to a point when movement not only fails but causes pain. Ten to a penny you see your doctor first. If it is very swollen, you may be considered to have gout. Off for a blood test maybe! A dose of ibuprofen pronounced I-BEW-PRO-FEN, not I-BUR-OFEN will be prescribed. If needed, you can purchase this for pennies by avoiding brand names which cost pounds. Pennywise starts to make sense. If you have NHS exclusion, then the drug is free. Saving the NHS is worthwhile – remember, it is your NHS.
My last bit of advice – click on my latest Factsheet-109-The-painful-big-toe-joint- which will download through your computer. Look at the information sheet first, and see if it helps you understand that joints are all different.
---
Making decisions based on facts: Bunion surgery – when is the best age?
I am always dubious about making fast decisions when treating the big toe for bunions (Hallux valgus). For that matter, I prefer my patients to observe caution, so all the facts are laid out and understood. Ponder two cases: one patient – C in her sixties and F in her twenties. More discussion can be found by using the useful link on my site regarding age based decisions.
---
Keen golfer struggled with foot pain caused by an arthritic hallux valgus.
Betty was a keen golfer who struggled with foot pain caused by an arthritic hallux valgus. The often named bunion suffers from cartilage damage and ordinary surgery is insufficient. [Rigid toe joint fact sheet No.3 2018] implants have been used for some years and the gold standard still seems to be a plastic hinge joint. As a foot specialist I have long experience with this mode of managing feet and the recovery does still seem to impress me with patients walking often the same day but reasonably well after a week plus the bonus of being pain free. Read Betty's testimonial from 11th February 2015.  Benefits, the toe is not unduly shortened but more commonly it is stiff with a slight amount of movement and power is down to under 50%. Foot specialists will select the best treatment for foot problems. There is no such thing that one treatment fits all!
---
Types of bunion deformity
Three levels of deformity
It is not in the least unrealistic to enquire as to how long your recovery. For simplicity we can consider three levels of deformity. Mild, moderate and severe. It therefore stands to reason that each type requires different approaches to correction. The skilled foot surgeon however will balance patient need, medical health, risk, occupation and impact of the foot problem when making a surgical decision. In the past the idea of one surgery fits all has been left behind as we now understand far more about foot surgery and longer term expectations.
Not all surgery is simple!
A patient had surgery ten years earlier. She had been provided with a bump (hard bone) removal by another surgeon from a different centre. We call this an exostectomy. For the surgeon, as my grandchildren would say, this was 'pimps' – that is to say quick and easy to do.
Of course there is a case for this in some patients to avoid complicated surgery. My patient, who was far from old was concerned that she was in worse pain. Far from recovering quickly her June 2004 'pimps foot surgery' was anything but successful.
What was the cause? It was more than likely that while her surgeon executed surgery ably, his pre-surgical assessment was not as ideal and that joint damage was the real cause of her foot pain. This means she could have an inflamed joint lining (synovitis), a loose body, sesamoid damage or split cartilage defects. The message here is to be wise before the event and ensure you know as much as you can about your foot problem and make a decision that you fully understand. So often we do not ask enough questions!
---
Mrs S reviews her bunion surgery 5 months on.
Back to shoes?
Mrs S had both feet operated for painful toe joints and did very well. She decided to text me and sent me her latest photos (not shown).
Question:" I know that bunion operations need some time to 'mend', but I thought I'd send you a picture of my feet – for your opinion please. Do you think they look ok?"
My comment: We love to stay in touch with our patients and it is important to share their experiences. Mrs S has agreed for me to share our discussion with others.
Answer: "It is lovely to hear from you. I have looked at the pictures and they do not seem to suggest any obvious signs for concern. Do you have any worries? If you do please arrange to see me at your convenience"
Question: "Ok – that's good then. Thought there was a bit of a bump on the right foot and I couldn't get into one of my old pair of shoes (heels) easily. So, I guess they'll keep improving."
Answer: "It is always difficult to state when has all settled but 6-12 months is certainly a good time for reflection. I would suggest that after surgery, not all feet fit into all shoes, even if they did before. Ladies have widely varying designs and so this can make matters a little more challenging."
Reply patient (Mrs S):Thanks – just wanted a bit of reassurance.
Mrs S's comments and questions are helpful because they reflect that healing is different for all of us. We don't want to be left with worries unnecessarily but expectations also have to be realistic. It is sometimes tough on patients to see the whole picture at the outset. Return to shoes can vary with typical return for most ladies around 8-12 weeks. We tend to use trainers as a base line and standard shoe design that both men and women use. Females wishing to add height to shoes out sooner is tempting but should be resisted too early on.
---
Jo and a 15-year old bunion pain
Jo suffered from a bunion for 15 years and realised how important her feet were. The consultations were unhurried, plenty of time for questions, comprehensive fact sheets with all the pros and cons. Well done Mr T for heading such a great team. Read the whole testimonial in Footlocker. This was my first post on my old website.
---
Julia: When bunion surgery does not go right
Maybe around 4% fall below the ideal aims of success. Data is published by the College of Podiatry PASCOM-10.com annually so this is not just a guess. Over the last 7 years, over 30,000 bunion surgeries have been performed where 93% believed their expectations had been met. There is a common problem that arises with the best surgery. Read my latest Bunion joint fact sheet No.1 2018
Pain and stiffness
Julia was keen on tennis and her surgeon selected an osteotomy (bone cut to improve the shape of the toe). An osteotomy is perhaps the gold standard with the aim of retaining joint movement. Sometimes the joint stiffens and can become painful.
Loss of joint quality is not uncommon and can progress as we age. The give away is how much the first toe joint hurts during normal activity. Too much pain and jamming means the toe may have a problem. An injection of steroid might be recommended first before surgery, unless the end stage has been reached.
Julia had this type of damage before surgery so she had around a 70% of success of improving even though there was loss of joint quality but this is not a guarantee. if deformity is the big concern, injections are of less use and can only help as a temporary measure in some cases. When pain on movement arises after surgery, it might be back to the drawing board and a second procedure required.
---
Removal of bunion and joint replacement – two procedures over the last six months as a day patient 
Both operations were carried out under local anaesthetic with medication to make you feel relaxed but awake. Both procedures took approximately one hour, during which time I was totally unaware of what was taking place and felt no pain. …people had warned me that such procedures were very painful and the recovery would be lengthy. This certainly was not my experience. After three weeks, I was seen by a physiotherapist who gave me further exercises for another three weeks. The treatment I received from Mr Tollafield and his team at the hospital was first class and I would not hesitate in recommending Mr Tollafield to anyone who is considering surgery on their feet." James White, 71 years, retired Chartered Accountant. December 2013
---
"What having this operation means to me?

 
No longer enduring pain in my hip because I can walk correctly. I am able to wear shoes without having to take one off as soon as the opportunity arises. To relieve the pain in my toe. I am able to go on long walks again, 8 to 10 miles, without having to stop every 20 minutes and also to relieve the pain. I am no longer woken up at night if my husband accidentally touches my toe and sends a sharp pain from my toe up my leg. I no longer have to visit my chiropodist every month. I no longer cry with the pain. I have my life back.
Carol Roberts November 2013
"I had surgery performed for a bunion removed. I would just like to say thank you very much. My foot looks so much better, I have no pain and bunion has gone. It takes a long time to get better, but it was all worth it. Also, I can still wear 'high heel shoes'. Thank you"
S.A.N female patient 53 years of age
"…I'm so pleased with the progress I'm making since having two-foot operation in the last 12 months…at least the appearance of them has greatly improved and I'm not so self-conscious when wearing open sandals anymore…you've always been very reassuring, patiently explaining all the procedures and possibilities to me…managing to make me feel completely at ease…!"
SB Female 2007
And finally, the result we all want…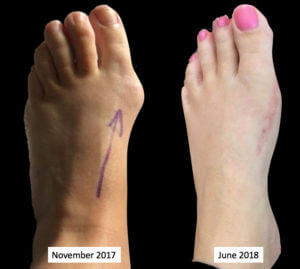 "Just wanted to say thanks for my new feet!! I'll look forward to showing them off in the summer. Thank you"
AL Female 2007
All cases and photos provided permission 
---
Thanks for reading 'Patient feedback on bunions with surgery bias' this article was written by David Tollafield. Do share this with friends and family. There are plenty of information sheets on bunions on this website. Updated 18 December 2019
---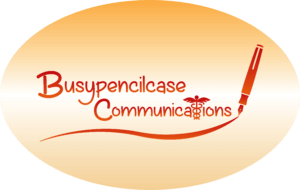 Consultingfootpain is part of Busypencilcase Communications Ltd 2019