Intensive Treatment Unit rotations
Welcome to this second part of this 3 – part series recorded by Trevor D Prior & David R Tollafield
Don't miss the first part you can catch up 

click here 
Trevor Prior, a podiatrist working out of Homerton Hospital East London provided me with tapes of his experience with the local ITU proning team. Bringing his skills into focus as a podiatric surgeon, familiar with theatre protocol and anaesthetic induction, helped him to assist and to become a team lead on occasions. His account provides some detail of what it was like to be on the front line. The author and editor of this article in the meantime could only look on but share events as they unfurled. Next month you can read the final part of Trevor's diary is published.
---
Part 2
 Intensive Treatment Unit Rotations draws on Trevor Prior's diary helping out at his local hospital where patients were having severe breathing problems associated with COVID-19.  Trevor is back in the thick of dealing with more sick patients and facing his first patient death. As time passed, Trevor and his team worked together on patients in theatres, anaesthetic rooms as well as the Intensive Treatment Unit (ITU).
---
Saving time adds for better efficiency
One of the great things is that food is delivered for free. The chocolates I had organised went down well with the nurses. We had two patients on the Intensive Care Unit (ITU) that needed de-proning which meant doing this around 7pm. This could be difficult for some people who had already put in a long shift and a system was not in place for the hours that people were doing. As team leader I decided to negotiate some leeway and we agreed to do it at 5pm.
Trevor was suddenly asked to help with a third patient and asked, 'What now? He replied, 'Yeh okay.'
'Fantastic, thank you so much,' was the reply
I called the Colorectal surgeon I was working with and suggested we did this third patient and move onto the other two so we did not have to take the PPE gear off. I cajoled the team. 

Music is playing, the mood is good and the chocolates are going down nicely and we get back to the first patient. We now know Intensive Treatment Unit don't always have all the kit to hand which can cause a delay so we take all our stuff with us. We have to check one another before we start as this is part of team work. The patient's sheet is soaked in urine.

We go through the process, there are lots of leads to navigate around. It seemed to go relatively well but when your turn them, the pillows have to be adjusted. The patients are on noradrenaline, this increases the heart rate by causing the blood vessels to close up or vaso-constrict, and delivered by a pump. We wrapped the pump around with a pillow which was helpful and prevented the equipment separating and falling away.

To turn the patient, you have to get your hands underneath and pull the sheet. I suddenly realised that my gloves had been pulled down exposing my bare wrists. I rationalised that I had no wounds so I pulled the gloves back on again. We then went out and de-proned two other patients.
Trevor had learned to preserve PPE kit and work efficiently when turning patients one after the other. On a different occasion and because of pressure, the team were asked to help out but were also needed somewhere else. The anaesthetist had gone ahead with some junior staff and a nurse.  This was one of the patients they had been working on earlier and was easier to turn. Trevor and his own group had kitted up only to throw a perfectly good set of PPE away. This rankled as five sets were wasted.
No need for it at all! This was probably due to the anaesthetist wanting to get on with the process rather than waiting, but it's their shout.
As the PPE was disposable, each set had to be replaced and this was causing the rapid turnover which central supplies had difficulty keeping up with. Multiply this by each hospital in the country and one could see how the shortage grew. As Trevor pointed out, if the anaesthetist could work with the team in 2-2 ½ hours you could turn up to three patients. This provides the reader with some idea of how long each manoeuvre could take. On the matter of the wrist exposure, Trevor reasoned it was not like when you operate and you have to break field. That means no longer being sterile in the technical sense. In theatre when this happens during an operation you have to change immediately. Nonetheless he says;
I did wash my hands and wrist about four times and put loads of spirit on it. In later discussions with the team it was appreciated you don't have to be sterile as such. It's not like undertaking a treatment procedure.
The team comprised an anaesthetist at all times but it would depend how critical the patient's vital readings were as to the urgency of any call.  Saturated oxygen generally is considered normal at 98% and above, while low nineties was not good. These were the so called 'sats'.
We started to work out that we needed to have some proning kit of our own and so we had our own theatre trolley that became known as the proning trolley. There were things we could do that the anaesthetist was not needed for as we could save on resources and had the skills.  The thing that does take time is when we don't have the kit for the anaesthetist and someone has to leave to find it. To overcome this, we talked to the theatre coordinator and gave them a list to sort this out. We could add if necessary but it would all be in a certain place for access. So this was the sort of discussion that took place to make the whole process smoother.
---
Rotations and shift patterns
There was much discussion over how long any member of the team could work for. Five days on at a time meant the chances of increased exposure were recognised. Three days on and three days off was considered more ideal. The timing of rotations was a problem because of shift patterns. Ideally you wanted to ensure that the patient was turned at the right 'times'.
From his recorded diary Trevor seemed constantly concerned about efficiency and how to make things work better. Having only been a member of a team for a short period he showed that he was able to apply his mind quickly to the individual needs helping the team. Although he explained later on his tapes that while a patient's airway was greatly helped by proning, they could not lie on their front for longer than 16-18 hours. It is easy to see how shift patterns could clash especially if it took 40 – 60 minutes for a team to turn a patient over. It is clear from many of these descriptions that patients were not all light weight.
When a patient is turned the team use arms and hands 'as one' because if the head moves at a different speed to the body it would be easy enough to kill the patient on account of their inability to control muscle tone. These patients were so sick that they were on life support, their breathing if compromised would lead to certain death. In contrast a patient who was awake and breathing with minimal support was always more ideal.
With some organisation the patients could be proned at the end of the day around 4-5pm and then de-proned at 9am the next day. The sequence would be thrown out if someone needed proning in the middle of the night due to deterioration in their breathing. A patient who had previously recovered from a cardiac arrest now needed proning and so the team agreed to stay.
Long legs, long arms
Tall at six foot five, Trevor's arms were equally long and so a nurse decided as a jest to ensure that his gloves did not come away as they had done previously. He was dressed from head to foot and provided with the longest gloves he had ever seen in his life! The gloves actually went past his elbows.
Trevor found methods in proning could vary between teams in the hospital.
I did not have to come in tomorrow as they had another team and my colleague Scott was going to be team leader. Before I left I fell into a conversation with an anaesthetist.

'How did you become involved with the Intensive Treatment Unit team?' he asked. 'You could be off, sitting and relaxing in the sun, elsewhere!'

 'Yeah, I know I could but I've worked with all these guys for all of these years. It just seemed the right thing to do.'

 'Thanks, I'm very grateful, it makes a massive difference,' he said.

It made me feel a million dollars! People don't say things like this lightly. The sheer fact that they're all saying it and everyone knows they are mucking in like the general anaesthetist who did not know all the ins and outs of one machine and how it worked. Well, this just brings out the best in people. You know team spirit.
---
Attention to cross-infection
The lack of understanding around the Corona virus and how it passes appeared to arise from inhalation contact in the main. However, passing the virus could also cross-infect from touching the face to mouth so that anything worn in an area of potential contamination was a concern. Trevor described and noted in detail how he reduced the risk of taking the virus back home.
Averting contamination, I have a bag with shampoo and wash stuff in as of course we are concerned about spread of the virus. I leave my personal belongings in my office. I use my scrub shoes to go down to theatre. I put my outside shoes on top of the locker. I then do the day. At the end of the day I put my scrub shoes in a clear bin bag as I want to return to the office. I use the shower in theatre before leaving, wash my hair so the head is tilted backwards. Anything that could lead to contamination rolls down your back. After a good shower I put all my outside clothes on. The towel goes back into the black bag. We use Clinell wipes so we wipe down everything. It is noticed that cleaners move from place to place pressing all the code buttons so we wipe everything. I drop my shoes in the clear bag and get into the car and drive home. I use the shower conveniently located after going through the back door and empty the black bag into the washing machine, use the shoe steriliser and putting home clothes on. I wipe my car keys and ID badge. Anything used clothing wise goes into the washing machine. I'm quite comfortable with this process.
Musculoskeletal damage
Trevor was not in for a couple of days as he was on a cyclic rotation. He focused on other matters and in one particular case a friend.  After his nasty cycle accident Trevor's friend would have died had it not been for his crash helmet.  The net result of the accident left the injured man with a foot drop. This is usually an indication of nerve damage. Trevor wanted to help using his primary skills and training. As a podiatrist a good deal of his practice lay in musculoskeletal work (MSK). This field involves trying to improve the way we walk and will account for problems that arise moving up the leg.
A podiatrist these days does not just deal with the foot in isolation!
A physiotherapy friend is off to the new Nightingale Hospital in the Docklands, site of the Excel Exhibition Centre. Security and concern for safety is starting to ratchet up as the press report that personal details are being copied. ID cards should not be photographed and posted on social media. The communications team don't want that to happen. They have really strict criteria who they will take on (at Nightingale). I believe that the BMI has to be less than 40 so that this means most of the patients will have a better chance of survival leaving the most difficult cases with the main hospitals. There may be some sense in that in terms of the expertise, but you can't help but feel there is some politics going on here so Nightingale will have a higher survival rate than the main hospitals. That may come across as a bit cynical but time will tell.
Weeks later as the hospital death rates started to fall, Docklands Nightingale had seen only around 54 patients and then returned to its former function. Meanwhile more specialist centres had sprung up in other cities as outbreaks seemed to spike further north and would follow suit as pressures eased.  For the most part Trevor believes politics plays little part in their own role as carers, by which time Prime Minister Boris Johnson was admitted with the virus and became seriously ill.
Rotas were three days on and nine days off. Scott, the podiatrist who worked with Trevor was now doing his stint. Taking advantage of the weather Trevor had some quality family time away from the hub-bub of the war on the virus.  He decided to put aside his normal routine which normally included administration work over Saturday and Sunday.
---
Skin problems!
By mid week Trevor was back in his office sorting out a rota for proning and noticed a new concern. Vasculitic lesions appear to be present with Covid-19 cases. The appearance may be flat or raised nodules or have more substantial bleeding under the skin (purpura).
The most interesting development about these vascular lesions was the fact I've had a query from the community team, as I am clinical lead for the service, which carried on through the crisis. If they get someone presenting with them should they send the patient for testing for Covid-19? I forwarded these queries onto someone leading in our Trust on Covid-19 and our Associate Medical Director who is also lead for A&E.
Skin biopsy was not considered a valid method to rule out Covid-19. Trevor put in a call to a podiatrist who specialised in foot dermatology and this kicked off a discussion that would involve the professional body through the College of Podiatry. E-mails started to fly. Further contact with medical colleagues were pursued to find out if a link was positive and how early identification of skin lesions, without general symptoms found in the foot could flag the condition early for patients. It turned out that toe lesions alone would not be the only skin change seen and the press were soon to report these additional changes seen in patients. 
---
A Well Oiled Team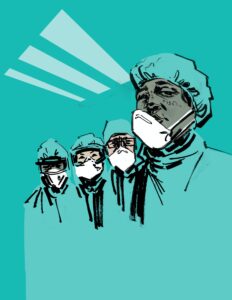 Proning helps improve blood oxygenation in those with severe respiratory distress. He takes up the story as we join him on Sunday April 19…
First day of the three day shifts. Started at 8.30am and went to handover with the anaesthetists. Three patients had to be de-proned and a lady I had seen previously was very sick. Theoretically patients should not be proned for more than 16-18 hours. The sick lady needed de-proning shortly at 9am and two others were scheduled for 10-12pm and 11am-1pm respectively. The team looking after the sick women were under a lot of pressure. As we headed off to the first de-proning, a radio call went out which involved another area. Already in our PPE the dilemma was, do we stay and deal with the de-proning or do we take off our kit and run around and put a new set back on? We decided to keep our PPE on and entered through the back area and walked straight in. We were confronted with a woman who appeared to be deteriorating. There appears to be a lot of clotting with this virus. The lady's right hand fingers were necrotic and when we arrived they were bag ventilating her at 55%. Bag ventilating is where a plastic bag is used to increase oxygen into the lungs and is attached to an oxygen supply.

She then went downhill which is why the call went out.
Trevor now moved back to deal with the original de-proning of a lady who had been suffering with the virus for 10 days. For the most part patients were kept sedated and unconscious. Trevor spotted one man in the Intensive Treatment Unit unusually awake.
He's conscious but obviously supported by oxygen. He's got all of this commotion going around him, I can' help thinking how traumatic is that, he'll probably need counselling. We missed lunch but had it at 2pm. Quite nice because the food comes in and we don't have to pay for it. I took a homemade cake in which went down well.

I started to talk to the physiotherapist who deals with bariatric patients and one of the concerns I noticed was the effect on the ankle and in particular ankle equinus (foot pointing downwards). When you're bedridden for two weeks the ankle plantar flexes and worsens when a patient is prone. I was told that they do have some protective devices to obtain a better position.

None of the patients that I saw had it on so I thought I would raise this because, if they recover, these patients won't be able to walk when they've finished.  A 28-year-old had been in hospital for two weeks and could not raise her arm above her shoulders and so this is the price paid for immobility for long periods. It is going to be a long haul for some of these patients. Around 3.30pm chatting to the anaesthetist over coffee they talked about the lady with the blackened fingers.
The anaesthetist sadly informed Trevor that the patient they had talked about would not survive and therefore it was unlikely that they would try to prone her. Fascinated by the physiology of respiratory medicine, Trevor decided that he would set out to find more about oxygen levels in Intensive Treatment Unit. A handover sheet was provided each time that the team arrived for their briefing which was then updated during the day. It contained a list of those who have died in the Intensive Treatment Unit.
Currently the number was 29 deaths and sadly one was a senior nurse which had clearly upset quite a lot of staff. The man in question was unknown to me. As patient deaths rose so did those of medical staff, doctors and nurse alike.
The impact of the virus could not have been clearer and only elevated the status of health care professionals who worked within the system.
Day 2 of his three days – Trevor went to the handover as usual and felt more conversant having done some reading around the subject of oxygenation physiology. Deaths had dropped nationally although the figures were to be misconstrued because community deaths and those in care homes had not been reported daily at this stage. The nation would soon be alarmed as the real death toll became public. At Homerton the number of intubated patients on Intensive Treatment Unit was now down to around 15 from 30. He recalls the patient with blackened fingers had died overnight as predicted.
On Day 3 the routine followed much as before and again the team were faced with another sick patient with congested lungs. Again the down to earth prediction of poor survival was stated. She was de-proned and her sats dropped to 30%. The patient was manually resuscitated and some improvement was noted but it was a fight as the team tried to work valiantly on behalf of every patient. It is clear although unstated that a significant amount of kindness and dignity is conveyed in both the way staff talk about patients and care for them.
I got home that night and thoughts continued in regard to how the patient would do that I had seen before I left. I thought this was a very sad story really…anyway. 
The emotion in his voice (on tape) was palpable. Indeed, the woman did not survive as he recorded the death toll now reaching 34 in the Intensive Treatment Unit. His narrative perhaps is important as many hospital workers might well have concurred with his own worries.
Alarm turns to his own health
I didn't need food when I returned home as we had been given so much in the way of carbohydrates. I found I was short of breath. I checked my temperature and used a pulse oximeter which we had at home. My sats were 99% and I was immediately reassured but I had a fitful night with real strange dreams. You keep thinking about PPE and that kind of thing. He concluded that having a pulse oximeter was more accurate than just taking one's temperature. Mixing with different specialties introduced a new experience, not least working with the parallel profession of orthopaedics.
Trevor was able to support other staff by providing an opinion on vascular status for patients on wards with Covid. One of the skills that all podiatrists have is to make a judgement call on the status of limb circulation which makes them particularly valuable with patients suffering circulation problems in patients with diabetes. By arranging ultrasound for this particular patient on the ward he was able to determine the cause of the dusky redness as the pulses were monophasic and thought to be progressive peripheral arterial disease. Recalling the ward case, he said;
This bug just whacks everything. The lung complication and all the other tissues. It's not nice and seeing the patients so sick and dying…

Everyone is treated with dignity, it's just a horrible situation. But, seeing the level of knowledge and skill and how the ITU staff deal with Covid, the complexity and how they all interact with teamwork. The butcher's toll still unknown!
---
A shorter and edited version of the diaries was produced for Podiatry Now for the June-July 2020 edition for Podiatrists and entitled 'Diary of an ITU Volunteer'. This was part of a special edition on COVID-19 and podiatry. The final part of Trevor's diary story concludes next month. Sign-up to be alerted.
---

Thank you for reading this series 'Intensive Treatment Unit Rotations' released as a three-part story covering the experience of Trevor Prior working with an ITU in a busy London Hospital at the height of the Corona virus outbreak in the United Kingdom. Read Part 1 now on Consulting

FootPain
---
Busypencilcase Reflective Communications (Est. 2015)