'Bunions Behind the Scenes'
Welcome to 'my latest publication'.
Bunion (Hallux Valgus): Behind the Scenes is my new (second) patient journey series scheduled 27th May 2019 from Amazon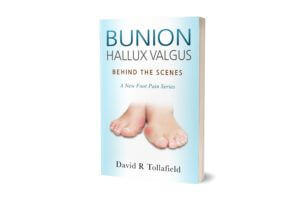 I am delighted to launch my second book, this time you can read about that troubling subject of the bunion. Over the last year I have published some free articles on bunions on my website consultingfootpain.co.uk. It is highly unlikely that you will find a book on the market that covers as much patient-focused information. Putting information in the hands of patients is vital. So 2019 is a definite time for an update as the last book written on bunions by a British podiatrist was Lewis Durlacher in the 19thcentury.  You can pre-order your e-book now. A paperback version will be released later on this year so watch out for this date by signing up to my website consultingfootpain.co.uk
---
'There is much confusion about whether to have something done or not about a condition like a bunion. Much written is neither for the patient nor written by a patient or even someone tuned into a patient's need. So, if you are contemplating bunion surgery, then please read this book first. It contains real patient journeys. Let's see if we can avoid surgery, but if not, then stay in control and make the right decision for you. Above all be careful about promises made by books to fix your bunion with exercise and devices.
After forty-plus years of experience as a podiatric surgeon, I can tell you otherwise.'
---
Here is a preview:
1: WHY DO PEOPLE WANT BUNION SURGERY?
SUMMARY: Understanding why people want treatment is helpful. The survey covers the year 2010 only but reflects typical concerns patients have from a bank of reported comments. Eradication of pain remains the principal focus of concern, followed by a desire to be able to wear shoes comfortably and thirdly being able to walk without discomfort. The majority of the other concerns are connected with the first three. We now need to chip away at the questions you should ask in order to understand any decisions discussed.
Getting to the bottom of why?
During 2010 the College of Podiatry set up a database that included a survey of the reasons why patients had wanted surgery in respect of their expectations. Thirty-seven centres forwarded anonymous data about the type of common procedure called an 'osteotomy'. Using a snapshot of patients from the opening year of the data collected in 2010, 1,030 people commented with 571 statements, many with simple undefined responses, others with more detail. The breakdown of these comments can be organised by common themes, although there is an overlap with some footwear aspirations. It is unlikely that complaints about bunions vary much from this list of 16 elements. The comments have been listed from the most common to least common.
Reduction in pain (31%)

Ability to wear shoes and boots without discomfort (18%)

Walking without pain (16%)

Straighter toe (13%)

Removal of the bump (6%)

Narrower foot (3.8%)

Adjacent toe deformity relief from soreness (3.1%)

Effect on work (2.8%)

Desire to wear 'nice' shoes (1.6%)

Toe flexibility (1.4%)

Limited to certain shoes (0.5%)

Pain at bottom of feet (0.7%)

Having matching feet (0.4%)

Relief from pain in other joints e.g hip, back (0.4%)

Corns (0.4%)

Sleep better (0.2%)
This list allows us to consider what makes us seek treatment, and in particular foot surgery. The predominance of female responses (70%) make this gender biased toward better looking feet and the impact on appearance and shoe fit, but the reduction of pain outranks all other concerns and is common to both genders.
At the bottom end, despite interrupted sleep polling only 0.2%, it is a significant issue. Pain at the bottom of the foot suggests that the big toe deformity may have accompanying problems, and issues with lesser toes are recorded in 3.1% of respondents, highlighting that some bunion deformities carry wider problems. So your concern may in fact be broader even though you are unaware of this fact.
A need for toe flexibility ranks tenth on the list (1.4%), whilst reduction of pain on movement forms a greater preference (31%). Pain does affect joint movement, and treatment will take into consideration the different entities that cause pain and stiffness.
One cannot underestimate how a bunion can impact on everyday life, whether it be at work, at home, with regard to hobbies, or interfering with simple tasks such as shopping or walking. Podiatrists and some orthopaedic surgeons have adopted a measurement tool, the Manchester–Oxford Foot Health Questionnaire, or MOXFQ. There have been many such attempts at measuring the effects of surgery but the MOXFQ looks at the effects of social impact associated with the bunion and was specifically designed for bunion/hallux valgus. The two other main points considered by the MOXFQ are pain and walking.
A significant pleasure in helping patients comes from ensuring that they have better mobility, and indeed this is recorded at number 3 on the list. At 16% this may appear to be a low value but the impact is considerable. Much lower in score at 0.4% is the response related to the effect on backs and hips. Nevertheless, the importance behind this statement suggests that in a number of cases other joints higher up the body will suffer and can be relieved once a painful bunion is managed. The decision to proceed to knee surgery before foot surgery can create a conundrum and there is presently no absolute rule except dealing with the greater pain first. Nonetheless it is important to accept that surgery to the knee will have some effect on the foot afterwards, and vice versa if the foot is operated on first. Whether matters are made worse is currently unrecorded but perhaps remains a possibility.
It is hoped that conservative (non-surgical) methods might bring full relief but many might focus on surgery (Part 2). It is the aim of the consultation to consider all the available options and to rule out treatment that is unlikely to help, while bearing in mind the patient's preferences.
---
Three patient diaries
Three patients provide independent reviews. In this way you know that the information will be different. My dedicated 'three' removed any honey from their narrative so 'all warts 'an all' have been left in! While the results are often good and should reassure most patients considering surgical treatment, it is always wise to know that some problems can make life a little difficult and that greater patience is required. While conservative care is always preferred, sadly in some cases, such approaches can also fail to offer that defining correction.
---
What the reviewers had to say about my book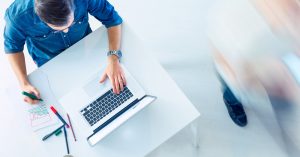 Nicola Harvey, Registered Nurse and foot surgery patient. I only wish that I had access to this detail both pre and post op! Instead, I had to scratch around the internet looking at blogs, which mainly were American. In fact, had I read your book I may well have saved myself some money. I particularly enjoyed your patients' diaries Your book is extremely well written and I would highly recommend anyone considering surgery to read this first. There was more post-op information than anything that I could find!
Mr T Chan, FCPodS, Surgical Registrar (Podiatric Surgeon).  I would thoroughly recommend this book on hallux valgus (bunion) surgery – it is insightfully written with a personal experience for those considering the operation. 
Dr T E Kilmartin PhD, FCPodS, Consultant Podiatric Surgeon & Former Dean, College of Podiatry. I think this is a really valuable and novel piece of work. The patient journeys are characterised by very high levels of anxiety throughout, which was an insight. As clinicians, how we could reassure them through this stage is probably worth thinking about… I still think the high-impact/low-risk approach to informed consent is inspired… All in all a really important piece of work.
Sidney Gibson (lay reader). Excellent background information that clearly puts matters into perspective. Explained conditions in a reassuring manner – obviously very experienced author. Demonstrates the available alternatives to consider, which helps one to understand not only the problem/condition but also the reasoning behind treatments and where to access treatment. Helpful advice and information on basics of actually going to and being discharged from hospital/being at home afterwards. The summary 'guides' are very useful.
Mr Tony Wilkinson, Consultant Podiatric Surgeon & Former Dean, College of Podiatry. This is a very comprehensive book, covering all aspects of hallux valgus surgery. I think it's an essential read for anyone undergoing this type of procedure, explaining things in layman's terms. The 'real' stories answer the age-old question from patients'Is there someone I can speak to who has had this done?'
Thanks for reading about my new publication 'Bunions Behind the Scenes' by David Tollafield to be released this summer. Pre-order on Amazon now.