Introduction
This is the subject of a bunion surgery experience for Jo, an ex-nurse who understood the importance of good foot health and describes  her patient journey. This was the first post that I decided to record for my patients when I posted my first article on my new website back in 2013. My consultations were unhurried as I preferred to allow plenty of time for questions. The use of comprehensive factsheets offered her the pros and cons. Sometimes there are points which have less appeal to patients. It is important to consider any negative aspects of treatment before taking the step toward surgery. No encounter can be assured. These were her words…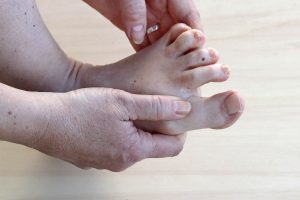 Overall journey experience
"I have suffered from a bunion for approximately 15 years. More recently I have asked various medical people, including an orthopaedic surgeon for advice. Nothing constructive was offered so I limped on, walking on the outside of my affected leg and suffering pain in the knee on that side as well. As a walker, enjoying 1 to 2 hours walk daily, I became worried as to what I was going to do. In the past 5 years I have had 2 hip replacements and I want to preserve them for as long as possible. You suddenly realise how important your feet are! Then a friend recommended a podiatrist."
Analysis of her bunion surgery experience
"The whole passage from initial assessment through to surgery and the after care was well organised. The consultations were unhurried and there was plenty of time to ask questions. There were comprehensive fact sheets about what operations were available, with all the pros and cons. All went smoothly on the day of surgery, and exactly as explained on the fact sheet. I was a bit taken aback that I needed a replacement joint but the joint was worn out so there was no option. I was most impressed with the physio who I saw 3 times post operatively, before discharging me. Eight weeks later I had my first 2 hour walk. My knee no longer hurt and I tried to do what the physios taught me. Wouldn't it be fantastic if we all had such a wonderful experience of the N H S? But well done Mr T for heading such a great team. You have always been very approachable, kind and thoughtful with a good sense of humour (all important for us patients and ex nurses !!!!!). Best Wishes 
Jo Latimer" December 2013 (Op 31st Oct)
It is useful to consider our patient's experience with surgery. These are often called journeys and the narrative can often reassure patients and put into better perspective the appreciation of that process that the specialist may not be equipped to deliver in discussion. Inevitably as hard as a clinician tries he or she cannot always convey the same degree of detail required, and all so often it is the small details that are left out. During 2019 a new book covering bunion surgery and three patient's detailed experience will be published to include  information that perhaps only patients see. It was not until I became a patient myself that having had foot surgery I understood these missing elements.
Read more Factsheets on this website ConsultingFootPain covering bunions and surgery
Bunion joint fact sheet No.1 2018
Bunion surgery the best age?
If this is your first time to 'Footlocker' thanks for signing-up. It's free and over the next 12 months more information will be launched including a Spotlight on Bunions advice with sight of a new publication based on not one by several patient journeys. So please stay in touch and look out for free information as well.
Thanks for reading 'Jo's experience of bunion surgery' published by David Tollafield
Adapted from Jo's testimonial December 2013.
David no longer practises in clinic and is a full time author writing regularly under Footlocker and in Reflective Podiatric Practice for Podiatrists under Busypencilcase Communications Ltd